DD Form 1970 Motor Equipment Utilization Record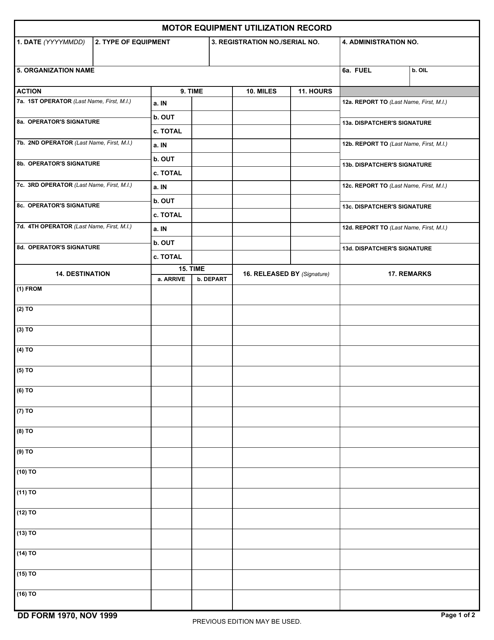 Fill PDF Online
Fill out online for free
without registration or credit card
What Is DD Form 1970?
DD Form 1970, Motor Equipment Utilization Record, is a form used to control the use of special purpose and material handling equipment as well as combat, tactical, and non-tactical vehicles. The form is also used for recording the operating time on equipment that requires services based on hours only. This includes generators, air compressors, centrifugal pumps, and so forth.
The latest version of the form - sometimes confused with DA Form 1970, House Staff Evaluation Report - was released by the U.S. Department of Defense (DoD) on November 1, 1999. An up-to-date fillable DD Form 1970 is available for download and digital filing down below or can be found on the Executive Services Directorate website.
For regular dispatches, the DD 1970 will be used until all the spaces in the operator or action section are filled in. For extended dispatches, the form will be used until all the spaces in either the operator or destination sections have been filled.
DD Form 1970 Instructions
The Motor Equipment Utilization Record consists of two pages and seventeen boxes in total with filing guidelines provided at the bottom of the second page.
Box 1 requires the date when the equipment is to be used. Box 2 requires specifying the type of equipment as designated in the equipment log.
Box 3 is for the equipment registration number or serial number. Box 4 is to be completed with the unit number or administrative number.
Box 5 is for specifying the organization to which the equipment is assigned. Box 6 is for entering the amount of fuel in gallons and the amount of oil in quarts obtained for the equipment
Box 7 requires the name of the equipment operator. Box 8 requires the operator's signature upon receiving the equipment.
Box 9 is for specifying the exact time the equipment was returned from use, the time the equipment was released for dispatch, and the total time the equipment was in the possession of the operator.
Box 10 is for the mileage readings recorded to the nearest whole mile. Box 10A is for the mileage at the time the equipment was returned from use. Box 10B requires specifying mileage at the time of dispatch. Box 10C is for total recorded mileage.
Box 11 is for recording the hour meter reading rounded to the nearest whole hour.
Box 12 and Box 13 are for the name and signature of the individual to whom the operator will be reporting.
Box 14 is for each location at which a trip begins and ends. Normally, the starting point is the equipment pool and the endpoint is at the same place after one or several intervening locations.
Box 15 is for the arrival and departure times at each of the destinations recorded above. Box 16 for the name of the person in charge of equipment on dispatch.
The final part - Box 17 - is for providing additional remarks, if necessary.
Download DD Form 1970 Motor Equipment Utilization Record