Form 200-FS-C3 Annual Vehicle Inspection Report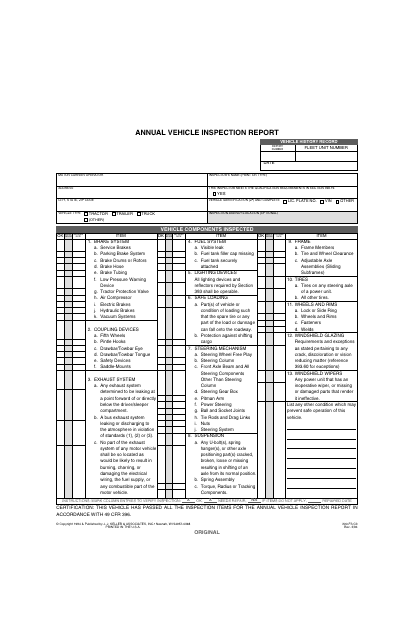 What Is an Annual Vehicle Inspection Report?
Form 200-FS-C3, Annual Vehicle Inspection Report, is a document that drivers are supposed to file annually in order to make sure their vehicle is in good condition. The purpose of the form is to collect information about the vehicle inspection that has taken place and determine whether certain parts of the vehicle need repair or not.
Alternate Name:
Form 200-FS-C3 must be completed by a vehicle inspector who is qualified in accordance with the Code of Federal Regulations, Title 49. This form was developed by the U.S. Department of Transportation - Federal Motor Carrier Safety Administration and was last revised on March 1, 1994. An Annual Vehicle Inspection Report Form is available for download below.
How to Fill Out an Annual Vehicle Inspection Report?
Form 200-FS-C3 can be used to gather information about tractors, trailers, trucks, and other similar vehicles. To complete the form, the inspector must fill out three parts:
Vehicle History Record. In the first part of the document, the inspector is required to provide the report's number, the date when it was completed, and the unit fleet number.
Information About the Inspection. Here, the inspector must identify the vehicle, designate information about the motor carrier operator and vehicle type. In addition to this, the inspector must state their name and the location of the inspecting agency.
Vehicle Components Details. This is the biggest part of the report since here the inspector must state the condition of the vehicle components. This part is divided into 13 sections, each one of them is dedicated to a particular car system or mechanism. The inspector is supposed to check them all and mark an appropriate box in the form if components are okay, need repair, and the date when they were repaired. These sections include:
Brake System. In this section, the inspector must indicate the condition of the brake hose, brake tubing, air compressor, electric brakes, hydraulic brakes, vacuum systems, etc;
Steering Mechanism. Here the inspector must state whether the steering column, steering gearbox, ball and socket joints, or other components of the steering mechanism need repair;
Fuel System. While checking the fuel system of the vehicle, the inspector must make sure there are no visible leaks, the fuel tank is securely attached to the vehicle, and the fuel tank cap is not missing;
Tires. The inspector must check all of the tires and confirm they do not need to be changed or fixed.
During the vehicle inspection, the inspector must also check the vehicle's coupling devices, exhaust system, frame, windshield wipers, and other components.
Download Form 200-FS-C3 Annual Vehicle Inspection Report