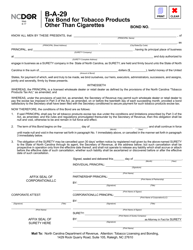 Form B-A-29 Tax Bond for Tobacco Products Other Than Cigarettes - North Carolina
This document contains official instructions for Form B-A-29, Form B-A-30, Form B-C-790, and Form GAS-1212. All forms are released and collected by the North Carolina Department of Revenue. An up-to-date fillable Form B-A-29 is available for download through this link. The latest available Form B-A-30 can be downloaded through this link. Form B-C-790 can be found here. The newest Form GAS-1212 can be downloaded here.
Instruction Details:
This 4-page document is available for download in PDF;
Actual and applicable for the current year;
Complete, printable, and free.
Download your copy of the instructions by clicking the link below or browse hundreds of other forms in our library of forms released by the North Carolina Department of Revenue.