VA Form 21-0779 Request for Nursing Home Information in Connection With Claim for Aid and Attendance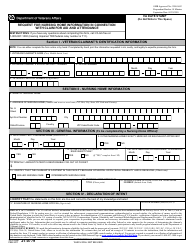 What Is VA Form 21-0779?
VA Form 21-0779, Request for Nursing Home Information in Connection with Claim for Aid and Attendance is a form used to put the level of care required by a claimant or a claimant's dependent on record. This form is used only for certain non-service-connected pension claims.
The latest version of the form was released by the Department of Veterans Affairs (VA) in February 2017 with all previous editions obsolete. An up-to-date VA Form 21-0779 fillable version is available for digital filing and download below or can be found through the VA Forms website.
The VA "Aid and Attendance Form 21-0779" is designed specifically for individuals who are residents of nursing homes. Documenting the level of required care is necessary to support a claim for additional pension above and beyond the base level and to support the need for certain medical expenses.
Accessing medical records is vital in advocating for quality care for residents. Residents and their legal representatives have the right to put in a request for nursing home records pertaining to their care, including current clinical records. Residents also have the right to purchase additional photocopies of their medical records. A claim cannot be filed with a general or durable power of attorney.
OMB Approved No: 2900-0652
Respondent Burden: 10 Minutes
Expiration Date: 02/29/2020
VA DATE STAMP
(Do Not Write In This Space)
REQUEST FOR NURSING HOME INFORMATION IN CONNECTION
WITH CLAIM FOR AID AND ATTENDANCE
INSTRUCTIONS: If you have any questions about completing this form, call VA toll-free at
1-800-827-1000 (Hearing Impaired TDD federal relay number is 711).
Section I - VETERAN/CLAIMANT'S IDENTIFICATION INFORMATION
NOTE: You can either complete the form online or by hand. If completed by hand, print the information requested in ink, neatly, and legibly to expedite processing the form.
1. VETERAN/CLAIMANT'S NAME (First, Middle Initial, Last)
4. VETERAN'S DATE OF BIRTH (MM/DD/YYYY)
2. VETERAN/CLAIMANT'S SOCIAL SECURITY NUMBER
3. VA FILE NUMBER
Month
Day
Year
5. VETERAN'S SERVICE NUMBER (If applicable)
SECTION II - NURSING HOME INFORMATION
6. NAME OF NURSING HOME
7. ADDRESS OF NURSING HOME (Number and street or rural route, P.O. Box, City, State, ZIP Code and Country)
No. &
Street
Apt./Unit Number
City
State/Province
Country
ZIP Code/Postal Code
SECTION III - GENERAL INFORMATION
(To be completed by a Nursing Home Official)
8. DATE ADMITTED TO NURSING HOME (MM/DD/YYYY)
9. IS THE NURSING HOME FACILITY MEDICAID OR EQUIVALENT APPROVED?
Month
Day
Year
YES
NO
11A. IS THE PATIENT COVERED BY MEDICAID OR
10. HAS THE PATIENT APPLIED FOR MEDICAID?
11B. DATE MEDICAID OR EQUIVALENT PLAN BEGAN
EQUIVALENT PLAN?
Month
Day
Year
YES
NO
YES
NO
(If "YES," complete Item 11B)
12. MONTHLY AMOUNT PATIENT IS RESPONSIBLE FOR OUT OF POCKET
$
13. I CERTIFY THAT THE CLAIMANT IS A PATIENT IN THIS FACILITY BECAUSE OF MENTAL OR PHYSICAL DISABILITY AND IS RECEIVING: (Check one)
SKILLED NURSING CARE
INTERMEDIATE NURSING CARE
15. NURSING HOME OFFICIAL'S
16. NURSING HOME OFFICIAL'S OFFICE TELEPHONE
14. NURSING HOME OFFICIAL'S NAME (First and Last) (Please print)
TITLE (Please print)
NUMBER (Include Area Code)
SECTION IV - DECLARATION OF INTENT
I CERTIFY THAT the statements on this form are true and correct to the best of my knowledge and belief.
18. DATE SIGNED (MM,DD,YYYY)
17. SIGNATURE OF NURSING HOME OFFICIAL (Sign in ink)
PRIVACY ACT NOTICE: The VA will not disclose information collected on this form to any source other than what has been authorized under the Privacy Act of 1974 or Title 5, Code of
Federal Regulations 1.526 for routine uses (i.e., civil or criminal law enforcement, congressional communications, epidemiological or research studies, the collection of money owed to the
United States, litigation in which the United States is a party or has an interest, the administration of VA programs and delivery of VA benefits, verification of identity and status, and personnel
administration) as identified in the VA system of records, 58VA21/22/28 Compensation, Pension, Education, and Vocational Rehabilitation and Employment Records - VA, published in the
Federal Register. While you are not required to respond, your cooperation in providing this relevant and necessary information will help us determine the claimant's maximum benefit
entitlement under the law. Information that you furnish may be utilized in computer matching programs with other Federal or state agencies for the purpose of determining the claimant's
eligibility to receive VA benefits, as well as to collect any amount owed to the United States by virtue of the claimant's participation in any benefit program administered by the Department of
Veterans Affairs.
RESPONDENT BURDEN: We need this information to determine eligibility for benefits and the proper rate of payment (38 U.S.C. 5503, 38 U.S.C. 1115 (1)(E)), 38 U.S.C. 1311(c), 38 U.S.C.
1315(h)). Title 38, United States Code, allows us to ask for this information. We estimate that you will need an average of 10 minutes to review the instructions, find the information and
complete this form. VA cannot conduct or sponsor a collection of information unless a valid OMB control number is displayed. You are not required to respond to a collection of information if
this number is not displayed. Valid OMB control numbers can be located on the OMB Internet Page at www.reginfo.gov/public/do/PRAMain. If you desire, you can call 1-800-827-1000 to get
information on where to send comments or suggestions about this form.
SUPERSEDES VA FORM 21-0779, MAR 2010,
VA FORM
21-0779
FEB 2017
WHICH WILL NOT BE USED.
Download VA Form 21-0779 Request for Nursing Home Information in Connection With Claim for Aid and Attendance
VA Form 21-0779 Instructions
The VA form 21-0779 is distributed without the filling guidelines provided. The VA Form 21-0779 is found below.
How to Fill out VA Form 21-0779?
The form consists of four sections:
Section I. Veteran/Claimant's Identification information. If you are a veteran or a claimant, enter your full name, social security number, VA file number, date of birth, and service number, if applicable.
Section II. Nursing Home Information. Provide the name and address of the nursing home, including the unit number and street or rural route, P.O. box, city, state, zip code, and country.
Section III. General Information. It is completed by a nursing home official. State the date of the patient's admission to the nursing home, the date Medicaid or equivalent plan began, monthly amount patient is responsible for out of pocket. Provide your full name, title, and telephone number. Answer several questions by providing data, whether the nursing home facility is Medicaid or equivalent has been approved, whether the patient has applied for Medicaid or an equivalent plan. You have to certify that the patient is in the facility because of mental or physical disability and is receiving skilled nursing care or intermediate nursing care.
Section IV. Declaration of Intent. Lastly, certify that the statements on this form are true and correct to the best of your knowledge and belief, sign and date the form.
The VA might require the following papers after the submission of the VA form 21-0779. Provide them as soon as possible:
In addition to the forms, the claimant should gather the following documents:
Marriage Certificate and Death Certificate;
Asset Information;
Verification of Income;
Proof of Medical Premiums;
Voided Check for Aid and Attendance Direct Deposit.
The claimant filing this form should remember that this form can be used for both supporting a claim for a higher level of pension and the need for certain medical expenses. Those two purposes should be kept in mind when a claimant opts for a VA claim, and when reviewing its completion by the nursing home to make sure there are no unexpected results with the claim.
Where to Mail VA Form 21-0779?
The completed VA Form 21-0779 is filed as part of a fully developed claim. The form, completed either manually or online, should be presented in person or mailed to the local VA regional office.
A duly appointed service organization, an employee of the local regional VA office, or a VA approved accredited agent or attorney can help a veteran or surviving spouse file a claim. The claimant may contact a Veterans Service Officer from a local Veterans Service Organization.
The Fully Developed Claim (FDC) program is the fastest way to get the claim processed. It requires submitting all evidence or supporting papers when filing the claim. When filing the standard claim, the claimant only gives the VA permission to gather evidence. The claimant should complete and submit the VA Form 21P-527EZ, Application for Pension and all supporting documents to the VA.
The VA Form 21-0779 is necessary when the claimant is in the nursing home. Participating in the FDC program is optional and does not affect the claimant's benefits. If the claim is filed under the FDC and the VA requires additional information, it will remove the claim from the program and process it in a standard way.