DD Form 2807-1 Report of Medical History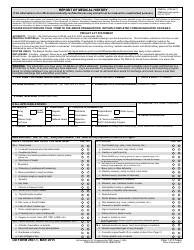 What Is DD Form 2807-1?
DD Form 2807-1, Report of Medical History is a form primarily used by and within the Department of Defense (DOD) to obtain medical information on individuals wishing to join the United States Armed Forces.
This form - sometimes confused with the DA Form 2807, Military Working Dog Training and Utilization Record, or incorrectly called the DA form 2807 - was last revised in March 2015. An up-to-date fillable DD form 2807-1 is available for download and electronic filing below on through the Executive Services Directorate website.
The data gathered on this form helps the DOD physicians determine the physical fitness of the applicants and verifies any disqualifying conditions during the pre-screening process. Failure to provide the necessary information might lead to delays and a possible rejection of the application to enter the Armed forces. The DD 2807-1 may also be used when an MBC (Medical Evaluation Board) is called to determine the medical fitness of a current servicemember and if separation is warranted.
OMB No. 0704-0413
REPORT OF MEDICAL HISTORY
OMB approval expires
(This information is for official and medically confidential use only and will not be released to unauthorized persons.)
Oct 31, 2017
The public reporting burden for this collection of information is estimated to average 10 minutes per response, including the time for reviewing instructions, searching existing data sources, gathering
and maintaining the data needed, and completing and reviewing the collection of information. Send comments regarding this burden estimate or any other aspect of this collection of information,
including suggestions for reducing the burden, to the Department of Defense, Washington Headquarters Services, Executive Services Directorate, Directives Division, 4800 Mark Center Drive,
Alexandria, VA 22350-3100 (0704-0413). Respondents should be aware that notwithstanding any other provision of law, no person shall be subject to any penalty for failing to comply with a
collection of information if it does not display a currently valid OMB control number.
PLEASE DO NOT RETURN YOUR FORM TO THE ABOVE ORGANIZATION. RETURN COMPLETED FORM AS INDICATED ON PAGE 2.
PRIVACY ACT STATEMENT
AUTHORITY: 10 U.S.C. 136, DoD Instruction 6130.03, and E.O. 9397, as amended (SSN).
PRINCIPAL PURPOSE(S): The primary collection of this information is from individuals seeking to join the Armed Forces. The information collected on this form is used
to assist DoD physicians in making determinations as to acceptability of applicants for military service and verifies disqualifying medical condition(s) noted on the
prescreening form (DD 2807-2). An additional collection of information using this form occurs when a Medical Evaluation Board is convened to determine the medical
fitness of a current member and if separation is warranted. Completed forms are covered by recruiting, medical evaluation board, and official military personnel file SORNs
maintained by each of the Services.
ROUTINE USE(S): The Blanket Routine Uses found at http://dpcld.defense.gov/Privacy/SORNsIndex/BlanketRoutineUses.aspx apply to this collection.
DISCLOSURE: Voluntary. However, failure by an applicant to provide the information may result in delay or possible rejection of the individual's application to enter the
Armed Forces. An applicant's SSN is used during the recruitment process to keep all records together and when requesting civilian medical records. For an Armed Forces
member, failure to provide the information may result in the individual being placed in a non-deployable status.The SSN of an Armed Forces member is to ensure the
collected information is filed in the proper individual's record.
WARNING: The information you have given constitutes an official statement. Federal law provides severe penalties (up to 5 years confinement or a
$10,000 fine or both), to anyone making a false statement. If you are selected for enlistment, commission, or entrance into a commissioning program
based on a false statement, you can be tried by military courts-martial or meet an administrative board for discharge and could receive a less than
honorable discharge that would affect your future.
1. LAST NAME, FIRST NAME, MIDDLE NAME (SUFFIX)
2. SOCIAL SECURITY NUMBER
3. TODAY'S DATE (YYYYMMDD)
4.a. HOME ADDRESS (Street, Apartment No., City, State, and ZIP Code)
5. EXAMINING LOCATION AND ADDRESS (Include ZIP Code)
b. HOME TELEPHONE (Include Area Code)
X ALL APPLICABLE BOXES:
7.a. POSITION (Title, Grade, Component)
c. PURPOSE OF EXAMINATION
6.a. SERVICE
b. COMPONENT
Coast
Army
Regular
Enlistment
Medical Board
Other
(Specify)
Guard
b. USUAL OCCUPATION
Navy
Reserve
Commission
Retirement
Marine Corps
National Guard
Retention
U.S. Service Academy
Air Force
Separation
ROTC Scholarship Program
8. CURRENT MEDICATIONS (Prescription and Over-the-counter)
9. ALLERGIES (Including insect bites/stings, foods, medicine or other substance)
Mark each item "YES" or "NO". Every item marked "YES" must be fully explained in Item 29 on Page 2.
HAVE YOU EVER HAD OR DO YOU NOW HAVE:
12. (Continued)
YES NO
YES NO
10.a. Tuberculosis
f. Foot trouble (e.g., pain, corns, bunions, etc.)
g. Impaired use of arms, legs, hands, or feet
b. Lived with someone who had tuberculosis
c. Coughed up blood
h. Swollen or painful joint(s)
d.
Asthma or any breathing problems related to exercise, weather,
i. Knee trouble
(e.g., locking, giving out, pain or ligament injury, etc.)
pollens, etc.
j.
Any knee or foot surgery including arthroscopy or the use of a scope
e. Shortness of breath
to any bone or joint
k.
Any need to use corrective devices such as prosthetic devices, knee
f. Bronchitis
brace(s), back support(s), lifts or orthotics, etc.
l. Bone, joint, or other deformity
g. Wheezing or problems with wheezing
m. Plate(s), screw(s), rod(s) or pin(s) in any bone
h. Been prescribed or used an inhaler
n. Broken bone(s) (cracked or fractured)
i. A chronic cough or cough at night
j. Sinusitis
13.a. Frequent indigestion or heartburn
k. Hay fever
b. Stomach, liver, intestinal trouble, or ulcer
c. Gall bladder trouble or gallstones
l. Chronic or frequent colds
11.a. Severe tooth or gum trouble
d. Jaundice or hepatitis (liver disease)
b. Thyroid trouble or goiter
e. Rupture/hernia
c. Eye disorder or trouble
f. Rectal disease, hemorrhoids or blood from the rectum
d. Ear, nose, or throat trouble
g. Skin diseases (e.g. acne, eczema, psoriasis, etc.)
e. Loss of vision in either eye
h. Frequent or painful urination
f. Worn contact lenses or glasses
i. High or low blood sugar
g. A hearing loss or wear a hearing aid
j. Kidney stone or blood in urine
h. Surgery to correct vision (RK, PRK, LASIK, etc.)
k. Sugar or protein in urine
l.
Sexually transmitted disease (syphilis, gonorrhea, chlamydia, genital
12.a. Painful shoulder, elbow or wrist (e.g. pain, dislocation, etc.)
warts, herpes, etc.)
b. Arthritis, rheumatism, or bursitis
14.a. Adverse reaction to serum, food, insect stings or medicine
c. Recurrent back pain or any back problem
b. Recent unexplained gain or loss of weight
c. Currently in good health (If no, explain in Item 29 on Page 2.)
d. Numbness or tingling
e. Loss of finger or toe
d. Tumor, growth, cyst, or cancer
DD FORM 2807-1, MAR 2015
Page 1 of 3 Pages
DoD exception to SF 93 approved by ICMR, August 3, 2000.
PREVIOUS EDITION IS OBSOLETE.
Adobe Professional X
DD Form 2807-1 Instructions
The form is an official statement - the applicant must provide truthful answers to all questions within the DD 2807-1 or face criminal charges.
Begin by filling personal identifying information: your name, home address and phone number, social security number, plus the date of filling the form. The social security number should be entered as EMPLID or as 00+EMPLID if filing the form online.
Your SSN should look like this if filing digitally: 001234567.
Provide the address and postal code of the examining location.
Indicate the branches and component you are applying for and the purpose of examination.
Active servicemembers must state their current position: the title, grade, component, and occupation.
List any medications you are taking and list all allergies you may have.
Next part of the form is the medical history and must be filled in completely. Every positive answer must be provided with further explanations in the given area, together with the dates of medical issues, the names of doctors and hospitals, received treatments, current medical status, and any limitations associated with physical health.
Provide your name and SSN on the second page of the form.
A physician may give additional comments after the examination. The physician must sign the form and provide their name and date.
DD 2807-1 Related Forms