DA Form 4700 Medical Record-Supplemental Medical Data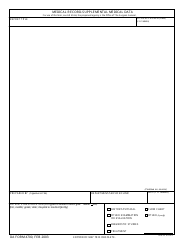 What Is DA Form 4700?
DA Form 4700, Medical Record - Supplemental Medical Data is a form used to supply medical reports with additional necessary healthcare-related information about any examinations, evaluations, diagnostic studies, special treatment descriptions and flowchart relevant to the servicemember's health.
The latest version of the form - sometimes incorrectly referred to as the DD Form 4700 - was released by the Department of the Army in February 2003. An up-to-date DA Form 4700 fillable version is available for digital filing and download below or can be found through the Army Publishing Directorate website.
Standard Form 600, Chronological Record of Medical Care is a standard medical record for official U.S. Government purposes. Additional forms used for providing extra medical data include the DD Form 2161, Referral for Civilian Medical Care, and Standard Form 513, Medical Record - Consultation Sheet.
MEDICAL RECORD-SUPPLEMENTAL MEDICAL DATA
For use of this form, see AR 40-66; the proponent agency is the Office of The Surgeon General.
OTSG APPROVED
REPORT TITLE
(Date)
(YYYYMMDD)
(Continue on reverse)
PREPARED BY
DEPARTMENT/SERVICE/CLINIC
DATE (YYYYMMDD)
(Signature & Title)
PATIENT'S IDENTIFICATION (For typed or written entries give: Name
last,
first, middle; grade; date; hospital or medical facility)
HISTORY/PHYSICAL
FLOW CHART
OTHER
OTHER EXAMINATION
(Specify)
OR EVALUATION
DIAGNOSTIC STUDIES
TREATMENT
APD LC v1.01ES
DA FORM 4700, FEB 2003
EDITION OF MAY 78 IS OBSOLETE.
How to Fill Out DA Form 4700?
An overview of the military medical record and filing guidelines can be found in the Army Regulation 40–66, Medical Record Administration and Healthcare Documentation, released in June 2008. DA Form 4700 instructions are as follows:
The first block on the top of the page requires the title of the report.
The second block requires the date of approval by the Office of the Surgeon General (OTSG) in a YYYYYMMDD format.
The central block of the form is for the necessary medical information. If the provided space is not enough, the report can be continued on the reverse side.
The next several blocks require the title and signature of the person responsible for the preparations, the name of the department, service or clinic and the date of verification in YYYYMMDD format.
The very bottom of the form requires identifying information on the patient. This includes their full name and grade as well as the hospital or medical facility supplying the data.
The final block requires specifying the purpose of the report by checking the appropriate box out of the given six.
Whenever a DA Form 4700 is used, it should be referenced on the SF 600.