DA Form 1103 Application for Army Emergency Relief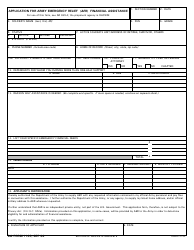 DA Form 1103 - also known as the "Application For Army Emergency Relief" - is a United States Military form issued by the Department of the Army.
The form - often mistakenly referred to as the DD form 1103 - was last revised on September 1, 1994. Download an up-to-date PDF version of the DA 1103 down below or look it up on the Army Publishing Directorate website.
1. SECTION NUMBER
2. DATE
APPLICATION FOR ARMY EMERGENCY RELIEF (AER) FINANCIAL ASSISTANCE
For use of this form, see AR 930-4; the proponent agency is OACSIM
3. SOLDIER'S NAME (Last, first, MI)
4. SSN
5. GRADE
6. STATUS
7. ACTIVE SOLDIER'S UNIT/ADDRESS OF RETIREE, SURVIVOR, OTHERS
a.
ACTIVE
RETIRED
DECEASED
b. ETS DATE (If active)
8. PHONE NUMBER (Include area code)
9. HOME OF RECORD (Street, city, state, zip code)
10a. APPLICANT'S NAME IF OTHER THAN SOLDIER
10b. RELATIONSHIP
10c. POWER OF
11. BANKRUPTCY FILED OR PENDING
ATTORNEY
YES
NO
CHAPTER:
YES
NO
12. DEPENDENTS FOR WHOM YOU FURNISH MORE THAN ONE-HALF SUPPORT
a. NAME
b. AGE
c. RELATIONSHIP
13. REASON WHY ASSISTANCE IS NEEDED (Be complete and specific. If more space is needed, continue on separate sheet.)
14. LIST YOUR SPECIFIC EMERGENCY FINANCIAL NEEDS
$
$
TOTAL
15. INDEBTEDNESS
a. TO WHOM
b. DATE INCURRED
c. ORIGINAL AMOUNT
d. MONTHLY PAYMENT
AER
16. APPLICANT'S CERTIFICATION
I hereby authorized the Department of the Army to supply AER with any requested information contained in my official Army personnel and pay files
in connection with this assistance. I further authorize the Department of the Army, or any agency, to supply my latest home address, and/or official
military address to AER whenever requested.
I further understand that AER is an independent private entity, not part of the U.S. Government. This application form, therefore, is not subject to the
Privacy Act (5 U.S.C. 552a). Information provided on this application, in some cases, will be provided by AER to the Army in order to determine
eligibility for and administration of financial assistance.
I certify the information provided on this application is complete, true and correct.
a. SIGNATURE OF APPLICANT
b. DATE
DA FORM 1103, SEP 94
EDITION OF AUG 85 IS OBSOLETE
USAPPC V1.00