DD Form 2983 Recruit / Trainee Prohibited Activities Acknowledgment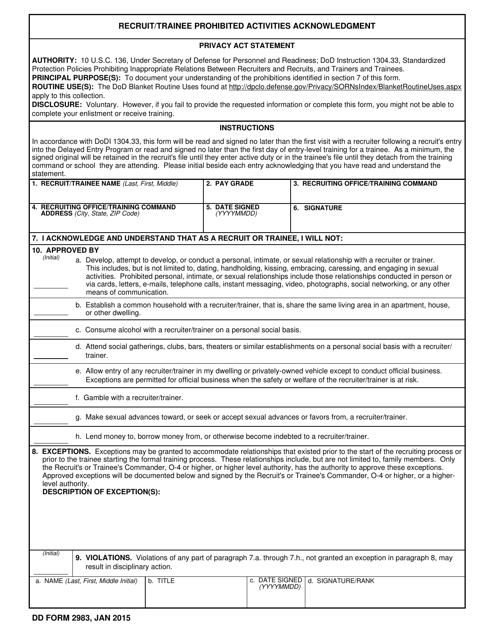 Fill PDF Online
Fill out online for free
without registration or credit card
What Is DD Form 2983?
This is a form that was released by the U.S. Department of Defense (DoD) on January 1, 2015. The form, often mistakenly referred to as the DA Form 2983, is a military form used by and within the U.S. Army. As of today, no separate instructions for the form are provided by the DoD.
Form Details:
A 1-page document available for download in PDF;
The latest version available from the Executive Services Directorate;
Additional instructions and information can be found on page 1 of the document;
Editable, printable, and free to use;
Fill out the form in our online filing application.
Download an up-to-date fillable DD Form 2983 down below in PDF format or browse hundreds of other DoD Forms compiled in our online library.
How to File DD Form 2983?
A shortened version of the DD Form 2983 instructions is distributed along with the form. Filing procedures are as follows:
Boxes 1 through 3 require the recruit's or trainee's name, pay grade and the name of their office or command.
Boxes 4 through 6 are for providing the full address of the office or training command with ZIP-code, the date of filing and the trainee's or recruit's signature.
Box 7 contains a list of prohibited actions and regulations. The person filling the form should read each line and indicate the acceptance with their initials.
In certain cases, exceptions can be granted. Only the trainee's or recruit's commander, O-4 or higher lever authority can approve and grant exceptions. These exceptions should be manually entered in the space provided in Box 8.
Box 9 states that any violations of the prohibitions not marked as exceptions will lead to disciplinary actions. The recruit or trainee has to mark their acceptance by entering their initials in the provided line.
Box 10 is filled in by the person approving the form. The three lines require their name, rank, signature, and the date of approval.
Download DD Form 2983 Recruit / Trainee Prohibited Activities Acknowledgment