Study Timetable Template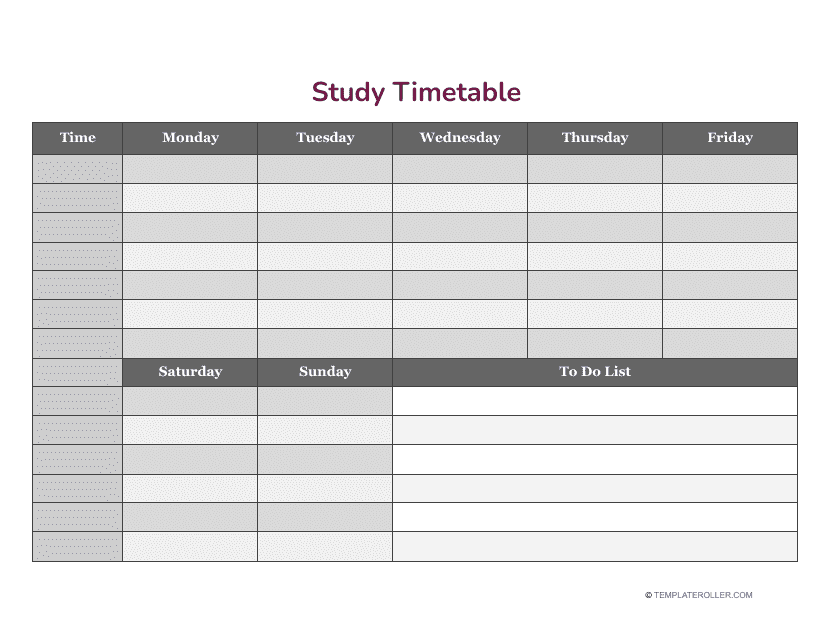 Fill PDF Online
Fill out online for free
without registration or credit card
What Is a Study Timetable?
A Study Timetable is mainly used by students in order to keep their studies organized, ensuring that they do not forget about any important tasks or deadlines. The timetable for study can be broken down day by day and you can set aside specific time during the week which will be devoted to studying.
Being a student is tough and sometimes there may be times where you are overwhelmed with the amount of workload suddenly unleashed onto you. By using a Study Timetable template, you can clearly keep track of this and avoid the workload piling on which can happen quickly and before you know it, you have a ton of deadlines that you cannot meet. This can lead to all sorts of problems not only in terms of academics but also in terms of the mental well-being of the student which should not be forgotten about.
By creating a timetable for study at home, you learn to prioritize tasks and study in the correct order. It takes off the extra pressure and gives students the comfort of feeling comfortable and well prepared for an exam which will ultimately lead to a better performance in an examination.
An editable Study Timetable template can be downloaded by clicking the link below.
How to Make a Study Timetable?
If you want to make and use a Study Timetable, we would recommend using one of your templates which will contain the necessary structure and format, all that you would need to do is simply tailor the template to your specific timetable and study plan.
Below we have compiled a list of things that you need to consider when preparing your own Study Timetable:
Before you even begin constructing the timetable for study, think about your own timetable and be honest with yourself. Realistically, how many hours can you devote to studying? Take into account any educational, work, sport or hobby commitments;
Once you have an idea of your current timetable, write in all of the times that you are definitely busy into the template. This will help you visualize what time you have left to dedicate to studying;
Determine your aims for studying. Maybe some weeks you may just need to do some extra reading whilst on others you may need to devote a large amount of time to exam preparation. Think about your aims for studying within each week and this will help you plan the frequency and hours that you need to put into studying;
Get into a stable routine with studying. There is no point creating a timetable and then refusing to follow it. Of course there are days where you will lack motivation and may feel tired, but it is important to get over that step and get into a routine. If this becomes a part of your daily routine, you are more likely to follow it;
Ensure that you do not overwork. Also set aside some time to relax and do things that you enjoy.
---
Haven't found the template you're looking for? Take a look at the related templates below:
Download Study Timetable Template