Class Schedule Template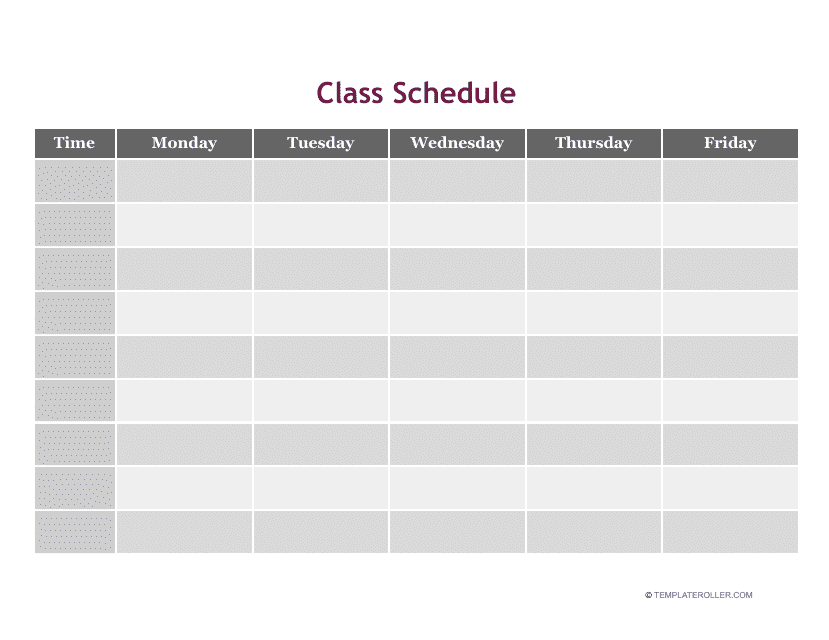 What Is a Class Schedule?
A Class Schedule is a written list of classes a student uses for reference during the semester.
Alternate Name:
Whether you are attending school every day or using online platforms for distance learning, it is a useful tool for every person that seeks to be in control of their time - you will know when a particular class is scheduled, see the name of the individual teaching the subject, and build a routine necessary to keep up with the challenging process of learning. Besides, a schedule like this will be indispensable for young kids that should explore the importance of discipline.
A Class Schedule template can be downloaded below.
How to Make a Class Schedule?
Here are some tips for you that will allow you to draft an effective Class Schedule:
If you spend a lot of time using electronic devices like a smartphone or laptop, it is recommended to prepare and update a digital version of the schedule. Not only you will be able to deal with sudden changes in the schedule, but also you will not have to worry about losing a single printed copy of the document. However, you definitely can print it out and hang it on the wall in your room as a constant reminder about your responsibilities.
Usually, a Lesson Schedule is the same for a semester - you have five or six school days, the same times the classes start and end, and the same recess times. It means it is enough to compose one schedule before the start of the calendar year or in the middle of it and keep track of all the classes you will have to attend. A table should include the rows pointing out the starting and ending times of classes and columns stating the days of the week.
Use different colors for different subjects. Here you should trust your own imagination and associations existing in your mind - certain subjects may be associated with certain colors, so fill in the table cells the way you like. Apart from the name of the subject (and you may use commonly accepted abbreviations in case you feel you are running out of space), write down the last name of the teacher and the classroom number if they are currently known. Do not forget to indicate when you and your classmates have breaks.
If you are helping your child to create a Lesson Schedule that may be checked by their teacher later, make sure you manage to follow the appropriate guidelines - for instance, the school administration might require the schedule to be printed out and brought to school every day. The school may demand you to avoid bright colors so that the schedule looks as formal as possible - to introduce a bit of fun to time management, consider making an alternative schedule your kid will use at home and decorate it with patterns and stickers that attract the attention of the child while not distracting them from their academic obligations.
---
Haven't found the template you're looking for? Take a look at the related templates below:
Download Class Schedule Template