DD Form 175 Military Flight Plan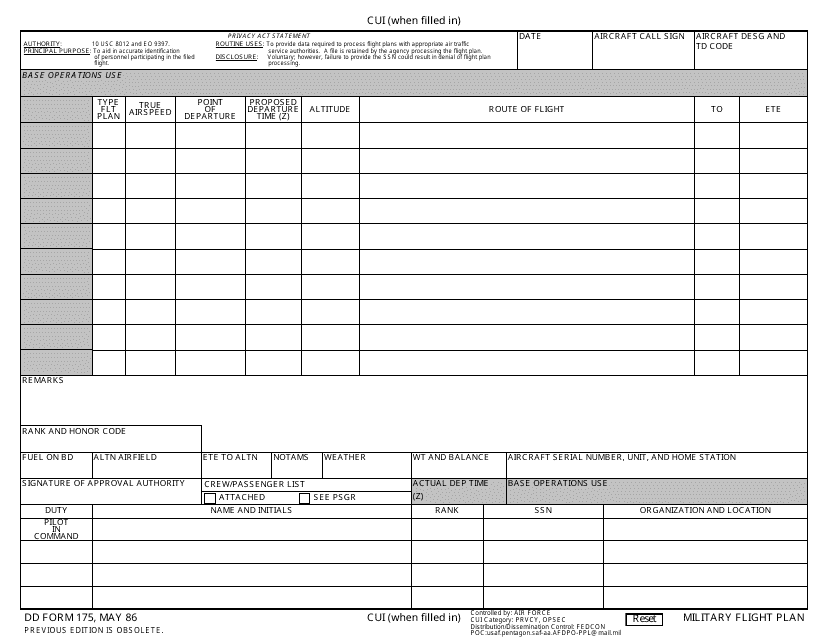 Fill PDF Online
Fill out online for free
without registration or credit card
What Is DD Form 175?
This is a form that was released by the U.S. Department of Defense (DoD) on May 1, 1986. The form, often mistakenly referred to as the DA Form 175 , is a military form used by and within the U.S. Army. As of today, no separate instructions for the form are provided by the DoD.
FAQ
Q: What is a DD Form 175?
A: A DD Form 175 is a Military Flight Plan.
Q: What is the purpose of a DD Form 175?
A: The purpose of a DD Form 175 is to provide a detailed plan for military flights.
Q: Who uses DD Form 175?
A: DD Form 175 is used by military personnel and organizations for flight planning.
Q: What information is included in a DD Form 175?
A: A DD Form 175 includes details such as flight route, aircraft information, and crew information.
Form Details:
A 1-page document available for download in PDF;
The latest version available from the Executive Services Directorate;
Editable, printable, and free to use;
Fill out the form in our online filing application.
Download an up-to-date fillable DD Form 175 down below in PDF format or browse hundreds of other DoD Forms compiled in our online library.
How to Fill Out DD Form 175?
Reference material can be found in greater detail in Chapter 4 of the National Geospatial-Intelligence Agency General Planning Flight Information Publication. Basic Form DD 175 instructions can be found below:
Enter the date of the flight in local time. Enter the aircraft call sign using the applicable code from the reference material.
Enter the military designation of the aircraft by entering the number of aircraft in the flight and the designation.
Enter the flight plan type "I" (IFR) or "V" (VFR) as appropriate for that segment.
Enter the True Air Speed (TAS) to be maintained at the initial cruising altitude/flight level.
Enter the location identifier of the departure airport. Enter the proposed departure time in Coordinated Universal Time. Enter the initial cruising altitude/flight level in hundreds of feet
Clearly define the route of flight by using Navigational Aid identifiers or fix radial distance, airway/jet route designation, named intersection, and RNAV waypoint.
Enter the location identifier of the full stop or final destination airport (as appropriate) opposite the last line entry in "Route of Flight."
Enter the estimated time en route. Enter the rank or honor code.
In the bottom section of the form, enter the fuel onboard, alternate airfield, ETE to alternate, NOTAMS/weather, weight and balance, aircraft serial number, unit, or home station, the signature of approval authority, crew, passenger list, actual departure time, duty, name and initials, rank and SSN, and organization and location.
Download DD Form 175 Military Flight Plan