Form 4107 Mandatory E-Pay Election to Discontinue or Waiver Request - California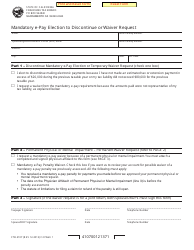 Form 4107 is a California Franchise Tax Board form also known as the "Mandatory E-pay Election To Discontinue Or Waiver Request". The latest edition of the form was released in December 1, 2013 and is available for digital filing.
Download an up-to-date fillable Form 4107 in PDF-format down below or look it up on the California Franchise Tax Board Forms website.
Print and Reset Form
Reset Form
STATE OF CALIFORNIA
FRANCHISE TAX BOARD
PO BOX 942840
SACRAMENTO CA 94240-0040
Mandatory e-Pay Election to Discontinue or Waiver Request
Name:
Social Security Number:
Spouse/Registered Domestic Partner (RDP) Name:
Social Security Number:
Address:
City:
State:
ZIP Code:
Part 1 – Discontinue Mandatory e-Pay Election or Temporary Waiver Request (check one box)
m
I elect to discontinue making electronic payments because I have not made an estimated tax or extension payment in
excess of $20,000 during the previous taxable year or my tax liability did not exceed $80,000 for the previous
taxable year.
m
I request a waiver from the mandatory e-pay requirement because the amounts paid were not representative of my
tax liability, as explained below:
Part 2 – Permanent Physical or Mental Impairment – Permanent Waiver Request (refer to PAGE 2)
m
I request a mandatory e-pay waiver because of a permanent physical or mental impairment. You must attach a
completed and signed physician affidavit to this form (see PAGE 3).
m
Mandatory e-Pay Penalty Waiver. Check this box if you want us to review your account for possible waiver of a
mandatory e-pay penalty we previously assessed. All the following must apply:
• You received a mandatory e-pay penalty for payments you made before we approved your permanent physical or
mental impairment request.
• The date on the Physician Affidavit of Permanent Physical or Mental Impairment (line 3) is before the
penalty assessment.
• The statute of limitations for filing a claim for refund of the penalty is still open.
Part 3 – Signature (if the waiver request is for a joint return, both spouses/RDPs must sign this form)
_____________________________________
____________________
_______________________________
Taxpayer Signature
Date
Telephone Number
_____________________________________
____________________
_______________________________
Spouse/RDP Signature
Date
Telephone Number
410700121371
FTB 4107 (REV 12-2013) C2 PAGE 1
Download Form 4107 Mandatory E-Pay Election to Discontinue or Waiver Request - California