Fill PDF Online
Fill out online for free
without registration or credit card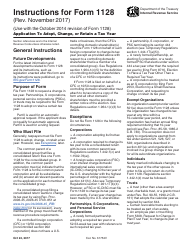 Instructions for IRS Form 1128 Application to Adopt, Change, or Retain a Tax Year
What Is IRS Form 1128?
This is a tax form that was released by the Internal Revenue Service (IRS) - a subdivision of the U.S. Department of the Treasury on October 1, 2014. Check the official IRS-issued instructions before completing and submitting the form.
Form Details:
A 5-page form available for download in PDF;
Actual and valid for filing 2023 taxes;
Editable, printable, and free;
Fill out the form in our online filing application.
Download a fillable version of IRS Form 1128 through the link below or browse more documents in our library of IRS Forms.