DD Form 2292 Request for Appointment or Renewal of Appointment of Expert or Consultant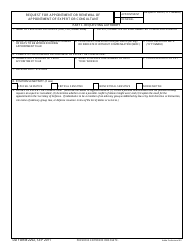 DD Form 2292 - also known as the "Request For Appointment Or Renewal Of Appointment Of Expert Or Consultant" - is a United States Military form issued by the Department of Defense.
The form - often incorrectly referred to as the DA form 2292 - was last revised on September 1, 2011. Download an up-to-date fillable PDF version of the DD 2292 below or request a copy through the chain of command.
REQUEST DATE (YYYYMMDD)
APPOINTMENT
REQUEST FOR APPOINTMENT OR RENEWAL OF
APPOINTMENT OF EXPERT OR CONSULTANT
RENEWAL
PART I - REQUESTING AUTHORITY
1. NAME OF PROPOSED APPOINTEE (Last, First, Middle Initial)
2. OFFICE, COMMITTEE OR SUBCOMMITTEE TO WHICH APPOINTED
3. WORK SCHEDULE AND ESTIMATED NUMBER
4. PROPOSED COMPENSATION (per hour or per day)
5. PROPOSED EOD DATE
OF DAYS TO BE WORKED DURING
OR INDICATE IF WITHOUT COMPENSATION (WOC)
(YYYYMMDD)
APPOINTMENT YEAR
6. COMPLETE FOR RENEWAL APPOINTMENT OF EXPERT OR CONSULTANT
a. NUMBER DAYS WORKED IN PRIOR
b. WORK SCHEDULE AND NUMBER OF DAYS
c. PROPOSED RATE OF PAY
APPOINTMENT YEAR
TO BE WORKED
7. OFFICIAL DUTY STATION
8. POSITION SENSITIVITY (X one)
SPECIAL SENSITIVE
CRITICAL SENSITIVE
NONCRITICAL SENSITIVE
NONSENSITIVE
9. DUTIES OF EXPERT OR CONSULTANT (Describe the duties in sufficient detail to (1) Permit a positive determination that the position actually
requires an expert or consultant; (2) Determine whether or not a possible conflict of interest might exist; and (3) Explain the need for the
appointment to the Secretary of Defense. If individual is to be a member of an advisory group established by law or by DoD Directive or Instruction,
cite name of advisory group, law, or defense issuance in lieu of the list of duties or services.)
DD FORM 2292, SEP 2011
PREVIOUS EDITION IS OBSOLETE.
Adobe Professional 8.0
Download DD Form 2292 Request for Appointment or Renewal of Appointment of Expert or Consultant