DD Form 1155C-1 Order for Supplies or Services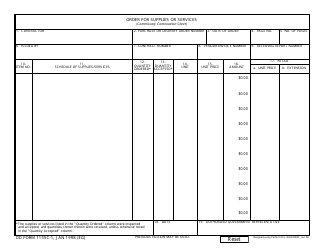 DD Form 1155C-1 or the "Order For Supplies Or Services" is a Department of Defense-issued form used by and within the United States Army.
The form - often mistakenly referred to as the DA form 1155C-1 - was last revised on January 1, 1998. Download an up-to-date fillable PDF version of the DD 1155C-1 down below or find it on the Department of Defense documentation website.
ORDER FOR SUPPLIES OR SERVICES
(Commissary Continuation Sheet)
1. CONTRACTOR
2. PURCHASE OR DELIVERY ORDER NUMBER 3. DATE OF ORDER
4. PAGE NO.
5. NO. OF PAGES
6. ISSUED BY
7. CONTRACT NUMBER
8. VENDOR INVOICE NUMBER
9. RECEIVING REPORT NUMBER
17. RETAIL
12.
13.
10.
11.
14.
15.
16.
QUANTITY
QUANTITY
ITEM NO.
SCHEDULE OF SUPPLIES/SERVICES
UNIT
UNIT PRICE
AMOUNT
a. UNIT PRICE
b. EXTENSION
ORDERED*
ACCEPTED*
$0.00
$0.00
$0.00
$0.00
$0.00
$0.00
$0.00
$0.00
$0.00
$0.00
18. DATE
19. AUTHORIZED GOVERNMENT REPRESENTATIVE
*The supplies or services listed in the "Quantity Ordered" column were inspected
and accepted, and quantities shown therein were received, unless otherwise noted
in the "Quantity Accepted" column.
DD FORM 1155C-1, JAN 1998 (EG)
PREVIOUS EDITION MAY BE USED.
Designed using Perform Pro, WHS/DIOR, Jan 98
Reset