Form 735-6890 Notice of Sale or Transfer of a Vehicle - Oregon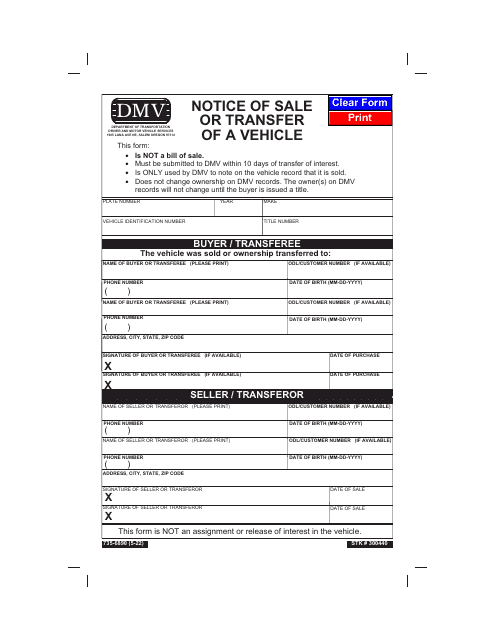 Fill PDF Online
Fill out online for free
without registration or credit card
What Is Oregon DMV Form 735-6890?
Form 735-6890, Notice of Sale or Transfer of a Vehicle is a legal document used to inform the Driver and Motor Vehicles Division (DMV)of the Oregon Department of Transportation that you have sold or transferred ownership of a vehicle. This legal notice shows the agreement of the parties, describes the sold vehicle and protects the seller and the buyer in case any disagreements or disputes arise after the transaction takes place. It was created for informational purposes only and does not constitute a release of any interest in the vehicle.
The Oregon DMV Notice of Sale or Transfer of a Vehicle was released by the Oregon Department of Transportation. The latest version of the document was issued on May 1, 2022, with all previous editions obsolete. You can download Form 735-6890 through the link below.
Form 735-501, Vehicle Bill of Sale is a related document that allows the seller and the buyer to exchange a sum of money for a motor vehicle. It is essential to record the fact of the transaction and complete both documents at the same time.
How to Sell a Vehicle in Oregon?
You need to take certain steps when selling a vehicle in Oregon:
Repair your vehicle - there might be issues and defects that will prevent the sale. Determine the price of your car. Clean it and advertise it. Think about a good venue to present the item to potential purchasers;
Complete and sign necessary documentation that makes the sale legitimate. You need to fill out Form 735-501 and Form 735-6890. Each party needs to have a copy of the document;
Give all vehicle documentation to the buyer who is now the new owner and is liable for registering the vehicle, getting insurance, and paying the appropriate fee.
Once the documents are signed, you have ten days to notify the DMV that you have sold your vehicle. Mail DMV Form 735-6890 to Oregon DMV, 1905 Lana Avenue NE, Salem, OR 97314.
This document contains the following information:
Vehicle details. Write down its plate number, year, make, identification number, and title number;
Buyer or transferee personal information - name, driver's license number, and address;
Seller or transferor's name;
Date of the transaction;
Signature of the seller. The signature of the purchaser is optional.
Other Revision
Download Form 735-6890 Notice of Sale or Transfer of a Vehicle - Oregon