Form 735-501 Vehicle Bill of Sale - Oregon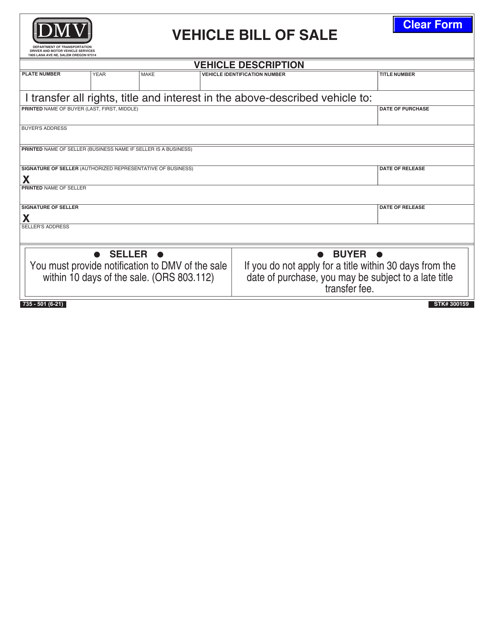 Fill PDF Online
Fill out online for free
without registration or credit card
Vehicle Bill of Sale (Form 735-501)
Form 735-501, Oregon Vehicle Bill of Sale is a legal document used statewide for all transactions that involve vehicles. It records the deal and serves as legal proof of the sale accepted by all government agencies. If filled properly, this Vehicle Bill of Sale establishes the rights of the new owner and releases the previous owner from responsibility for the sold vehicle. It is also necessary to register the vehicle once the papers are signed.
Alternate Name:
This form was released by the Oregon Department of Transportation (DOT). The latest version of the document was issued on June 1, 2021, with all previous editions obsolete. You can download a fillable Oregon Form 735-501 through the link below.
Form 735-6890, Notice of Sale or Transfer of a Vehicle is a related document that the seller of the vehicle uses to inform the DOT that the vehicle was sold. Once signed, this document must be sent to the Oregon Driver and Motor Vehicles Division (DMV) within ten days.
Can You Register a Vehicle with a Bill of Sale and No Title in Oregon?
If you have purchased a vehicle and it does not have a title, you are able to get a replacement title and transfer it into your name simultaneously. You must provide the completed Form 735-226 (Application for Title and Registration), Form 735-515 (Application for Replacement Title) signed by the buyer and seller, the Bill of Sale, a lien release, and the appropriate title fee. However, if the vehicle is less than ten years old, you must obtain an odometer disclosure. To make it happen, the seller has to replace the title first and then disclose the odometer on the title for you. After that, you will need to apply to transfer the title to you and register the vehicle within thirty days of the purchase.
An Oregon Vehicle Bill of Sale contains the following information:
Vehicle description. It is sufficient to identify the vehicle, so state its plate number, year, make, identification number, and title number;
Buyer's personal information. Indicate the name and address of the buyer;
Date of the transaction;
Seller's printed name (business name) and signature. The form can be signed by the individual or authorized representative of the business. It does not require the signature of the purchaser.
Does a Vehicle Bill of Sale have to Be Notarized in Oregon?
There is no legal requirement to notarize this form. The buyer does, however, have the responsibility of notifying the DMV of the transaction within 10 days and applying for a title within 30 days from the date of purchase.
---
Check out these related forms:
Other Revision
Download Form 735-501 Vehicle Bill of Sale - Oregon