Form 735-173 Application for Driving Privileges or Id Card - Oregon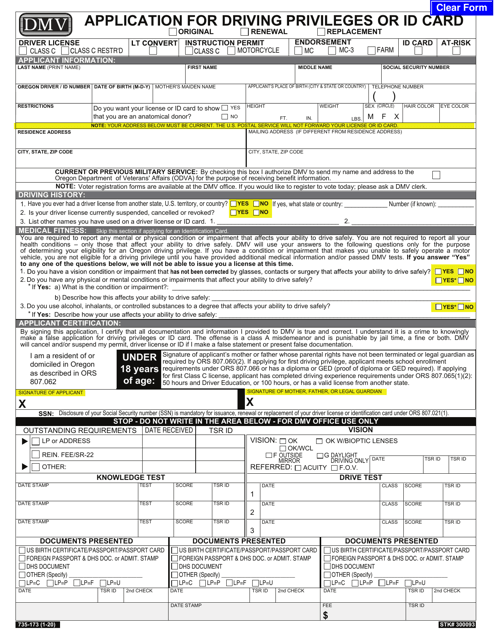 Fill PDF Online
Fill out online for free
without registration or credit card
What Is Form 735-173?
Form 735-173, Application for Driving Privileges or ID Card, is a form that has to be completed by residents of the State of Oregon to apply for issuing, replacing, or renewing their driver's license, instruction permit, endorsement, or identification card.
Alternate Name:
Oregon ID Application;
Oregon Drivers License Application.
To apply for issuing, renewing, and replacing an Oregon driver's license, and issuing or renewing an Oregon ID card, a filer has to submit this completed form with other required additional documentation in person through a DMV division office.
This form was released by the Oregon Department of Transportation and the latest version was issued in January 2020. A fillable Form 735-173 is available for download below.
Oregon Drivers License Application Instructions
The Oregon State identification card, like a driver's license, is used to identify a person but does not provide driving privileges to its owner. The Oregon ID Application should be submitted by those people who do not want to operate any vehicles or are unable to do it. The Driver and Motor Vehicles (DMV) division allows Oregon residents to hold only one identification document, and they cannot hold an identification card and driving license at the same time.
Oregon driver's license and identification cards are valid for eight years and residents have to complete the form to renew them at their expiration. It is required to use an Oregon Drivers License Application as well to update a driver's license in the case of changing personal information of a holder. Residents of the state must replace their driver's licenses or ID cards if these documents have been lost, stolen, damaged, or destroyed.
Oregon DMV Form 735-173 must be filled in as follows:
An applicant has to check the purpose of an application, and the type of a card required.
Applicant information. An applicant has to enter their personal information, including their full name, social security number, Oregon driver or ID number, telephone number, height, weight, hair and eye color. The filer should provide their current residence address. If their mailing address is different from the address of residence, it should be indicated as well. The proof of identity and of the state residency should be attached to the form;
Driving history. This section contains several questions that the filer has to answer regarding their previous driver's license;
Medical fitness. This section includes a list of questions about the mental or physical conditions of an applicant that affect their ability to drive safely. The filer has to answer these questions "Yes" or "No". The answers provided allow the DMV to determine the eligibility of an applicant for a driving privilege. If the filer is applying for an Identification card, they should skip the section;
Applicant certification. An applicant, signing the form, thus certifying that all information provided is correct. If an applicant is under 18 years of age, the form should be signed by their mother, father, or legal guardian.
Download Form 735-173 Application for Driving Privileges or Id Card - Oregon