Form SSA-16 Application for Disability Insurance Benefits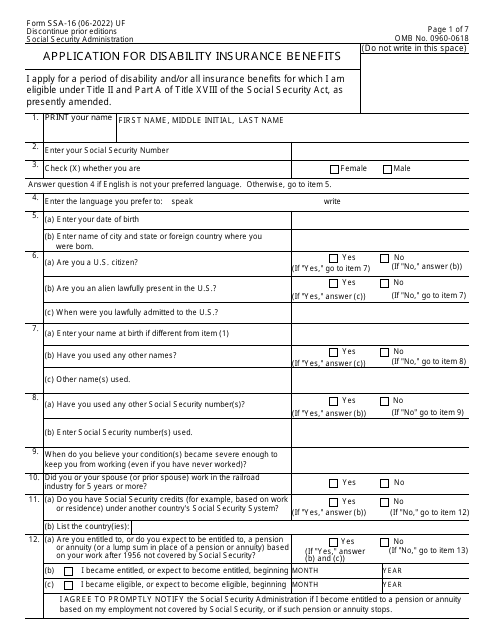 Fill PDF Online
Fill out online for free
without registration or credit card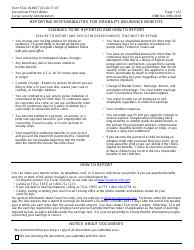 Instructions for Form SSA-16 Application for Disability Insurance Benefits
What Is Form SSA-16?
Form SSA-16, Application for Disability Benefits, is a form used to apply for Social Security Disability Benefits.
Alternate Name:
Disability Benefit

s Application.
The Application for Disability Benefits should be completed and submitted by a person who is considered disabled under Social Security rules. It is a person who is not able to do work that they did before and to adjust to another work because of their illnesses or injuries. At the same time, the current or expected disability should last for at least one year. The Social Security Administration (SSA) only pays for total disability (partial or short-term disability are not covered). To qualify for Disability Benefits, the applicant must have worked long enough and recently enough in jobs covered by Social Security as well.
This form was released by the SSA with the latest version issued on June 1, 2022. A fillable Disability Benefits Application is available for download below.
Disability Benefits Application Instructions
The instructions for filling in an SSA-16 Form are as follows:
1-7. The applicant should provide their personal information, such as their name, Social Security number, gender, date of birth, and citizenship status;
The applicant should inform if they have ever used any other Social Security number;
The applicant needs to specify the time when their conditions became an obstacle to work;
The applicant has to inform if they or anyone else has ever filed for Social Security benefits on their behalf;
11-12. The applicant should provide information about their being in the military service after September 7, 1939, and before 1968, and if they or their spouse have ever worked for the railroad industry for 5 years or more;
13-14. Applicants will be required to respond to the questions regarding having Social Security credits and qualifying for receiving a pension based on the employment after 1956 not covered by Social Security;
Applicants need to provide information about the current and previous marriages, including information about current and former spouses, and indicate their children eligible for benefits;
17-20. This part requires information about self-employment, the names of employers and the amount of earning for the current and previous year;
21-22. The applicant should specify if they are still unable to work because of their illnesses and if these disabilities are related to work;
24-25. The applicant should inform about filing for other public disability benefits, and receiving any money from an employer since the date of becoming unable to work;
26-28. This part features questions about any existing child under age 3, dependent parents, and parents receiving disability benefits.
The applicant should sign the form, write their full name in ink, and enter their phone number.
---
Not the document you need? Check out these related SSA forms:
Other Revision
Download Form SSA-16 Application for Disability Insurance Benefits