VA Form 22-1995 Request for Change of Program or Place of Training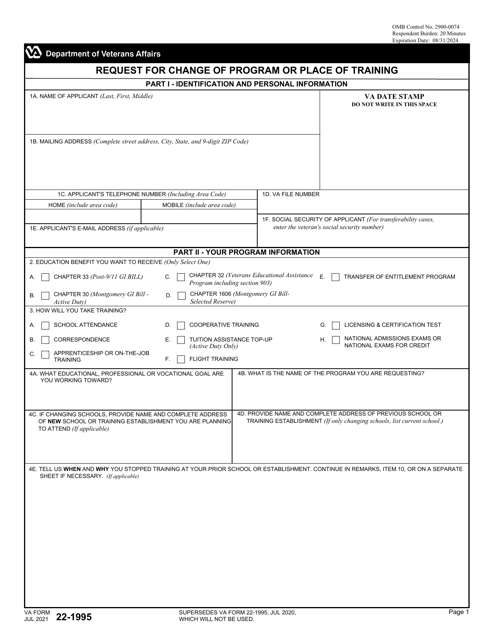 Fill PDF Online
Fill out online for free
without registration or credit card
What Is VA Form 22-1995?
VA Form 22-1995, Request for Change of Program or Place of Training, is a document developed for veterans who want to change their program or place of training. This includes changing schools, changing educational, professional, or vocational goals, and reentering the same program a veteran had already started but left due to unsatisfactory attendance, progress, or conduct.
The form was issued by the U.S. Department of Veterans Affairs (VA) and was last revised on July 1, 2021. A fillable 22-1995 Form is available for download below.
Additionally, the form can be used by individuals who were receiving Veteran Affairs education benefits as veterans and now they wish to receive benefits while they are on active military duty or by individuals who have exhausted their Post-9/11 GI Bill benefits or will exhaust all benefits within the next 180 days and would like to apply for the Edith Nourse Rogers STEM Scholarship.
How to Submit VA Form 22-1995?
VA Form 22-1995 is presented on two pages and is followed by two pages with instructions on how to fill out the form. The form contains five parts in total and should be filled out as follows:
Identification and personal information. Here an applicant is supposed to enter their full name, mailing address (street address, city, state, zip code), a filer's day and evening telephone number (including area code), email address, VA file number, and social security number.
Program information. In this section, a veteran should designate the education benefit they want to receive, how a veteran will take their training, what educational, professional, or vocational goals a veteran is working towards, the name of the program requested, etc.
Direct deposit information. This part of the application is supposed to be filled in only if an applicant wishes to start, change or stop the direct deposit.
Miscellaneous information. Individuals can use this part to report information about their dependents, period of service, branch of service, dates of active duty, etc.
Certification and signature of an applicant. In the last part of the form, an applicant is supposed to put their signature and date.
After a filer completes the application, they are supposed to submit it to the VA Regional Processing Office. The location of the office depends on the region of the school's or establishment's physical address:
Eastern Region (mail to: VA Regional Office, PO Box 4616, Buffalo, New York 14240-4616). Connecticut, Delaware, District of Columbia, Massachusetts, Maryland, Maine, North Carolina, New Hampshire, New Jersey, New York, Pennsylvania, Rhode Island, Virginia, Vermont, U.S. Virgin Islands, APO/FPO AA.

Central Region (mail to: VA Regional Office, PO Box 32432, St. Louis, Missouri 63132-0832). Colorado, Iowa, Illinois, Indiana, Kansas, Kentucky, Michigan, Minnesota, Missouri, Montana, Nebraska, North Dakota, Ohio, South Dakota, Tennessee, West Virginia, Wisconsin, Wyoming.

Western Region (mail to: VA Regional Office, PO Box 8888, Muskogee, Oklahoma 74402-8888). Alaska, Alabama, Arkansas, Arizona, California, Florida, Georgia, Hawaii, Idaho, Louisiana, Mississippi, New Mexico, Nevada, Oklahoma, Oregon, Puerto Rico, South Carolina, Texas, Utah, Washington, Guam, Philippines, APO/FPO AP.
Foreign school applications and applications for the Edith Nourse Rogers STEM Scholarship are supposed to be sent to the VA Eastern Region Office. If an applicant hasn't chosen a school or training establishment yet, then they are supposed to send their completed application to the region of their home address.
Download VA Form 22-1995 Request for Change of Program or Place of Training