USCIS Form N-400 Application for Naturalization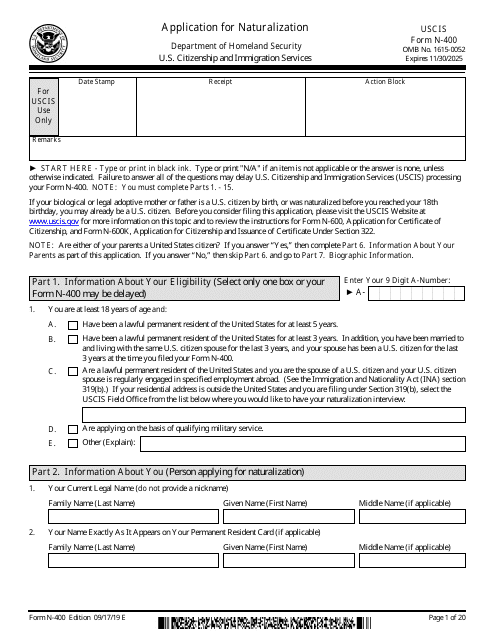 Fill PDF Online
Fill out online for free
without registration or credit card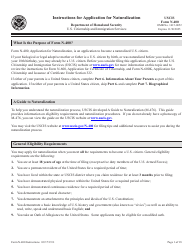 Instructions for USCIS Form N-400 Application for Naturalization
What Is Form N-400?
Form N-400, Application for Naturalization, is a form issued by the U.S. Citizenship and Immigration Services (USCIS). The form was last released on September 17, 2019: a fillable PDF version of the USCIS Naturalization Form is available for download through the link below or find it on the USCIS website.
Alternate Names:
USCIS Form N-400;
USCIS Naturalization Form.
Form N-400 is used to apply for U.S. citizenship by means of the naturalization process. U.S. permanent residents meeting the eligibility requirements can file this form to request citizenship.
How to File Form N-400?
To apply for naturalization, you will have to make sure you meet all eligibility requirements. You can check if you qualify for any exceptions and accommodations on the USCIS website. Form N-400 instructions are as follows:
If you are not a U.S. citizen by birth, or through your parent(s), you need to prepare and submit Form N-400. Gather the necessary documents to demonstrate your eligibility for naturalization. If you do not reside in the United States, get your passport-style photos taken.
Once the form is submitted, expect a receipt notice from the USCIS. You will be able to check your status update online.
If needed, you will be asked to present yourself for a biometrics appointment to have your biometrics taken.
After the preliminary process on your case is done, the USCIS will invite you for an interview. Do bring the appointment notice to the interview.
Now it's time to wait for the USCIS decision on your file.
If your Form N-400 is approved, it's time to take the Oath of Allegiance. Complete the questionnaire on Form N-445, Notice of Naturalization Oath Ceremony. Hand in your Green card.
Now that your Oath of Allegiance is taken, you are officially a citizen. Citizenship is what connects all Americans and includes rights and responsibilities that all citizens are to follow and respect.
A complete list of documents to bring to your naturalization interview can be found on the USCIS website. If your application for naturalization is denied, the USCIS will send you a written notice with the reason. The denial letter will also explain the appeal process if you feel that there was an error made on the part of USCIS regarding your case.
Here are a few things you need to know about the application process and the USCIS naturalization test. Form N-400 filing fee is $640. The biometrics services fee, $85, however, applicants 75 years of age or older do not have to pay a biometrics services fee, so the total filing fee is $640.
How to Submit Form N-400?
You can apply online or on paper. To apply online, you have to create a USCIS account. After you get access to the online application, try to provide as many responses as you can on your application for naturalization. Upload evidence (e.g. images of the front and back of your Permanent Resident card). The USCIS can request additional evidence based upon the responses in your online application. Review and sign digitally. Finally, pay and submit. Payments are done through Pay.gov.
If you prefer to apply by paper, complete Form N-400. Review the form instructions on completing the form and start collecting the required documents. Make a copy of your Permanent Resident Card (Green Card). Submit a copy of the front and back of your card with your application. As to the photographs, you must have two passport-style photos taken and attach them to your application in case you reside overseas. Please refer to the "Required Evidence" section on the specific requirements for submission of your photos. You can find this information on the form.
Submit the filing fee by including the appropriate payment with your form and biometric services fee, if required. Fees can be processed in the form of money orders, personal checks, cashier's checks, and credit cards. Form N-400 payments are accepted by credit card using Form G-1450, Authorization for Credit Card Transactions. No additional fee is required if you pay with your credit card. If you need further details, do refer to the Form N-400 instructions.
Finally, you have to submit evidence. Include the initial evidence and supporting documentation for the form. The document checklist can be of help. Sign and file your form. You will find the correct filing location in the form instructions.
Other Revision
Download USCIS Form N-400 Application for Naturalization