USCIS Form I-589 Application for Asylum and for Withholding of Removal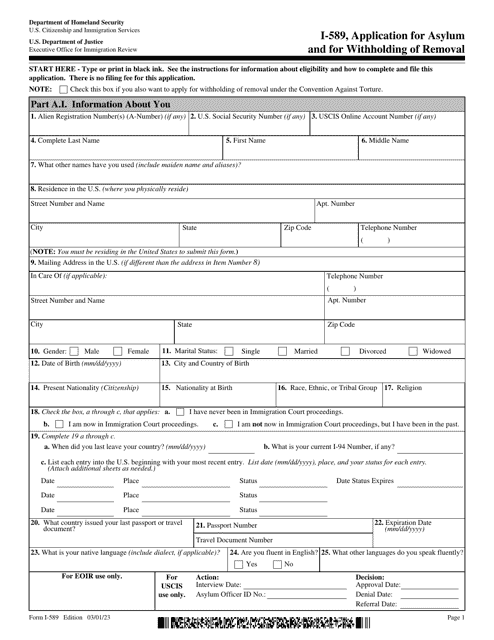 Fill PDF Online
Fill out online for free
without registration or credit card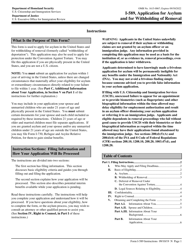 Instructions for USCIS Form I-589 Application for Asylum and for Withholding of Removal
What Is Form I-589?
Form I-589, Application for Asylum and for Withholding of Removal, is a legal document completed to apply for asylum in the U.S. and to withhold the removal or deportation. It is possible to fill out this application if you are not a U.S. citizen and are physically present in the country. You can submit I-589 in the following situations:
You are applying for asylum outside of deportation (e.g., an affirmative asylum application);
You are applying for asylum as a defensive measure in the removal proceedings.
If you are deemed eligible for asylum, you will be permitted to stay in the U.S. Spanish-speaking applicants can file the Spanish version of the form - Formulario I-589, Solicitud de Asilo y de Suspensión de Remoción.
Alternate Names:
I-589 Application;
USCIS Form I-589.
Form I-589 was released by the U.S. Citizenship and Immigration Services (USCIS) with the latest version issued on March 1, 2023. You can download a fillable I-589 Application through the link below. Related forms include Form I-589 Supplement A and Form I-589 Supplement B.
Form I-589 Instructions
Follow these steps to complete Form I-589:
Provide your personal details. State your alien registration number, social security number, and USCIS online account number. Indicate your full name, other names, physical and mailing addresses, gender, marital status, date, and place of birth. Enter your nationality, race, and religion. If you have ever been in Immigration Court proceedings, check the appropriate boxes. List the dates and places of each entry into the U.S. you had. Name the country that issued your last passport and add this document's number and expiration date. State which languages you speak fluently.
Write down the same information about your spouse and children.
List your former residences, schools, and employers. Specify the dates of residence, attendance, and employment.
Write down the names, places of birth, and current location of your parents and siblings.
Indicate the reason for asylum or withholding of removal. If you, your family, or close acquaintances ever experienced harm or mistreatment, especially in your home country, answer "yes" and explain the details in the provided space.
If you or any of your family members have ever been convicted of a crime, been part of any political or religious organizations in your home country, or are afraid of being subjected to torture in your home country, answer "yes" and explain the situation in full detail.
If you or your relatives have ever applied to the U.S. government for refugee status, asylum, or withholding of removal, explain the decision and what happened to any former status.
Print your name and write your name in your native alphabet. If your relative helped you to prepare the application, indicate their name. Sign and date the form.
If the form was completed by an individual different from an applicant, they need to state their name and contact information.
If you need more information, you may consult with official Instructions for Form I-589, issued by the USCIS - download them through this link. Form I-589 processing time varies from application to application, but you may expect to get an invitation for an interview within three weeks of submitting the form. Once the interview is completed, your case will be assessed - a decision is reached after six months.
Where to File Form I-589?
Form I-589 filing address depends on your place of residence:
If you live in Alabama, Arkansas, Colorado, District of Columbia, Florida, Georgia, Louisiana, Maryland, Mississippi, New Mexico, North Carolina, Oklahoma, Puerto Rico, South Carolina, Tennessee, Texas, U.S. Virgin Islands, Utah, Virginia, West Virginia, Wyoming, Western Pennsylvania counties (Allegheny, Armstrong, Beaver, Bedford, Blair, Bradford, Butler, Cambria, Clarion, Clearfield, Crawford, Elk, Erie, Fayette, Forest, Greene, Indiana, Jefferson, Lawrence, McKean, Mercer, Somerset, Venango, Warren, Washington, and Westmoreland) send the form to the Texas Service Center, Attn: Asylum, PO Box 851892, Mesquite, Texas 75185-1892.
If you live in Arizona, California counties (Imperial, Los Angeles, Orange, Riverside, San Bernardino, San Diego, Santa Barbara, San Luis Obispo, or Ventura), Guam, Hawaii, Nevada counties (Clark, Esmerelda, Nye, and Lincoln) send the form to the California Service Center, PO Box 10881, Laguna Niguel, California 92607-0881.
If you live in Alaska, Idaho, Illinois, Indiana, Iowa, Kansas, Kentucky, Michigan, Minnesota, Missouri, Montana, Nebraska, North Dakota, Ohio, Oregon, South Dakota, Washington, Wisconsin, any California or Nevada county not listed above send the form to the Nebraska Service Center, PO Box 87589, Lincoln, Nebraska 68501-7589.
If you live in Connecticut, Delaware, Maine, Massachusetts, New Hampshire, New Jersey, New York, Rhode Island, Vermont, any Pennsylvania county not listed above send the form to the Vermont Service Center, Attention: Asylum, 75 Lower Welden St., St. Albans, Vermont 05479-0589.
Download USCIS Form I-589 Application for Asylum and for Withholding of Removal