USCIS Form G-1145 E-Notification of Application / Petition Acceptance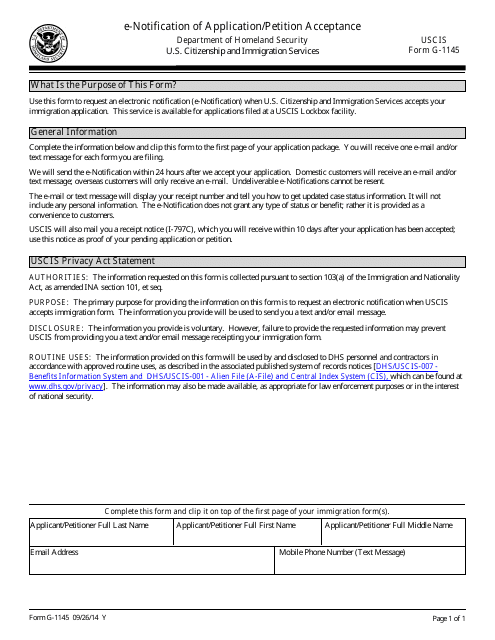 Fill PDF Online
Fill out online for free
without registration or credit card
What Is Form G-1145?
Form G-1145, e-Notification of Application/Petition Acceptance , is a form that is used to request an electronic notification when an immigration application is accepted by U.S. Citizenship and Immigration Services (USCIS). This form should be filled in if an applicant wants to be notified by text message and email when their application is received.
Alternate Names:
USCIS Form G-1145;
USCIS e-Notification Form.
The latest version of the form was released on September 26, 2014 . A USCIS G-1145 Form fillable version is available for download through the link below.
Form G-1145 Instructions
The applicant (petitioner) should enter their full last name, full first name, and full middle name in the table. They should also add their e-mail address and mobile phone number. The completed form is attached to the top of the first page of the applicant's immigration form.
The e-notification does not include the personal information of the applicant, because an e-mail and a text message are not considered secure ways to transmit such information. The notification lists the receipt number of the applicant and provides instructions on how to obtain case status information. The e-notification does not grant the applicant a benefit or status. It has informational purposes only. USCIS Form G-1145 was created for the convenience of customers and it gives them confidence that the application has been received.
It is important to know that the USCIS e-Notification Form is different from Form I-797C, Notice of Action. Form I-797C is a receipt notice which USCIS sends within 10 days of accepting the application. It can be used by an applicant as proof that the application or petition is pending. It is not a form that applicants can fill out.
Where to Send Form G-1145?
The service of receiving an electronic notification (e-notification) of acceptance of the application is available for forms filed at three Lockbox facilities. They are located in Lewisville, Texas; Chicago, Illinois; and Phoenix, Arizona. The duties of the Lockbox include cashing in on the payment, sending an e-notification if the applicant filed Form G-1145 with the application, and forwarding the rest of the application to the service center. The e-notification should be received by the applicant within 24 hours after the USCIS accepts the application. Domestic customers receive a text message and an e-mail; overseas customers receive an e-mail only. If the message was not delivered, it cannot be resent.
The addresses of the Lockbox facilities are the following:
USCIS Dallas Lockbox Facility (USCIS, PO Box 660921, Dallas, Texas 75266).
USCIS Phoenix Lockbox Facility (USCIS, PO Box 20400, Phoenix, Arizona 85036).
USCIS Chicago Lockbox Facility (USCIS, PO Box 7219, Chicago, Illinois 60680-7219).
---
Not what you were looking for? Check out these related forms:
Download USCIS Form G-1145 E-Notification of Application / Petition Acceptance