Form UB-106-A-FF Weekly Claim for Unemployment Insurance (Ui) Benefits - Arizona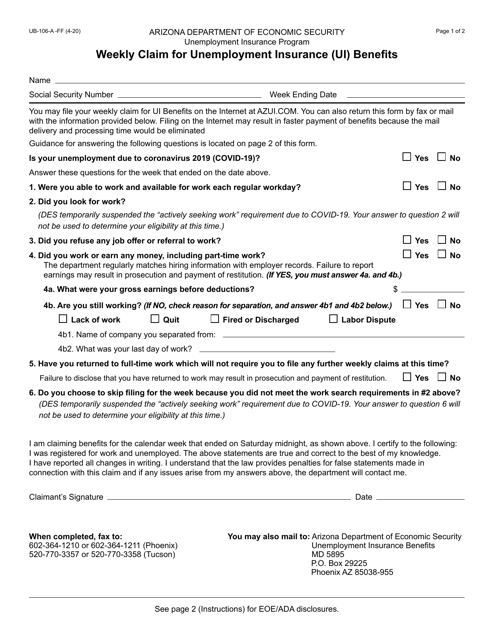 Form UB-106-A-FF, Weekly Claim for Unemployment Insurance (UI) Benefits, is a legal document you need to complete to verify that you were unemployed during the report week and are eligible to receive benefit payments - Arizona Unemployment Insurance, or AZUI, payments. Fill out this form if you have applied for AZUI benefits or have an existing AZUI claim with a monetary balance.
Alternate Name:
Arizona Unemployment Insurance Claim.
An AZUI Weekly Claim filing is mandatory each week for as long as you do not have a job, meet all the eligibility requirements, and want to claim the benefits. A determination will not be made unless you filed a claim regardless of your AZUI Weekly Claim status. All weeks must be filed in order, without breaks. Failing to do so may result in a delay in having your benefits approved.
This form was released by the Arizona Department of Economic Security (ADES). The latest version of the form was issued on April 1, 2020, with all previous editions obsolete. A UB-106-A-FF fillable form can be downloaded through the link below.
UB-106-A-FF Instructions
To complete the AZUI Weekly Claim, you need to answer the following questions:
Were you able to work and available for work each workday?
Did you look for work? You must show an active effort to seek employment that you are suited for by education, training, and experience. Name the employer and person contacted, the method of contact, record the type of work you sought and the action you took subsequently.
Did you refuse any job offers or referrals to work?
Did you earn any money for your work? Enter the amount of gross earnings, name the company you separated from, indicate the reason for separation from the employer, and your last day of work.
Have you returned to full-time work?
Do you choose to skip filing for the week because you did not comply with the work search requirements?
When you complete the form, indicate your name, social security number, and record the ending date of the report week. Sign the document and write down the actual date. There are two ways to send Form UB-106-A-FF to the ADES:
Fax the form to 602-364-1210 or 602-364-1211 (for Phoenix) and 520-770-3357 or 520-770-3358 (Tucson);
Mail the form to the Arizona Department of Economic Security, PO Box 29225, Phoenix AZ 85038-922.
Other Revision
Download Form UB-106-A-FF Weekly Claim for Unemployment Insurance (Ui) Benefits - Arizona