DA Form 54 Record of Personal Effects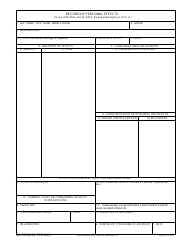 DA Form 54 or the "Record Of Personal Effects" is a Department of the Army-issued form used by and within the United States Military.
The form - often incorrectly referred to as the DD form 54 - was last revised on February 1, 2009. Download an up-to-date fillable DA Form 54 down below in PDF-format or look it up on the Army Publishing Directorate website.
RECORD OF PERSONAL EFFECTS
For use of this form, see AR 638-2; the proponent agency is DCS, G-1
2. GRADE
1. LAST NAME, FIRST NAME, MIDDLE INITIAL
4. ORGANIZATION
5. STATUS (Deceased, Missing, or Captured)
6. DATE OF STATUS
7. PLACE
8. INVENTORY OF EFFECTS
9. FUNDS/NEGOTIABLE INSTRUMENTS
a. QUANTITY
b. ITEM
a. TRANSMITTED TO RECIPIENT
b. FUNDS DEPOSITED OR OTHERWISE DISPOSED OF
(1) AMOUNT AND DESCRIPTION
(2) DISPOSITION
ATTACH SUPPLEMENTAL SHEET FOR ADDITIONAL ITEMS.
10. EFFECTS SHIPPED TO:
11. DATE AND METHOD OF SHIPMENT (B/L No., Registry No.,
etc.)
12. SUMMARY COURT OR COMMANDING OFFICER'S
REPRESENTATIVE
a. SIGNATURE
13. I acknowledge receipt of all articles listed in Block 8 and all
items recorded in Block 9a.
b. TYPED NAME AND GRADE
c. DATE
a. SIGNATURE OF RECIPIENT
d. ORGANIZATION
b. PRINTED OR TYPED NAME OF RECIPIENT
c. DATE
DA FORM 54, FEB 2009
PREVIOUS EDITION IS OBSOLETE
APD LC v1.00ES