DA Form 7574 Incapacitation Pay Monthly Claim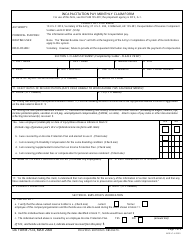 What Is DA Form 7574?
DA Form 7574, Incapacitation Pay Monthly Claim Form is a document used for claiming incapacitation pay and providing the information necessary to determine the service member's eligibility to receive it. The incapacitation pay monthly claim form has no security classification and is approved for public release with unlimited distribution.
The latest version of the form – sometimes incorrectly referred to as the DD Form 7574 – was released by the Dept. of the Army in March 2008. An up-to-date DA Form 7574 fillable version is available for digital filing and download below or can be found through the APD website.
Upon being notified of a soldier's injury or disease, unit commanders must immediately ensure that appropriate medical care is provided to the soldier depending upon the type of affliction or illness. The soldier must then be assisted in preparing the necessary claim form and be given travel orders to go to a Military Treatment Facility.
INCAPACITATION PAY MONTHLY CLAIM FORM
For use of this form, see DA PAM 135-381; the proponent agency is DCS, G-1.
PRIVACY ACT STATEMENT
10 U.S.C 3013, Secretary of the Army; 37 U.S.C. 204, Entitlement, AR 135-381, Incapacitation of Reserve Component
AUTHORITY:
Soldiers and EO 9397 (SSN)
This information will be used to determine eligibility for incapacitation pay.
PRINCIPAL PURPOSE:
None. The "Blanket Routine Uses" set forth at the beginning of the Army's Compilations of System of Records Notices
ROUTINE USES:
apply to this system.
Voluntary. However, failure to provide all the requested information may delay or prevent the payment of compensation.
DISCLOSURE:
SECTION I - CLAIM STATEMENT (Completed by Soldier - PLEASE PRINT)
1. LAST NAME
2. FIRST NAME
3. MIDDLE INITIAL
4. SSN
5. RANK
6. DUTY MOS/AOC
7. UNIT OF ASSIGNMENT
8. UNIT PHONE NUMBER
9. DATE OF INJURY/ ILLNESS/DISEASE (YYYYMMDD)
10. MO/YR OF CLAIM
11. EXACT DATES OF INCAPACITATION (DAYS I WAS UNABLE TO WORK DURING THIS CALENDAR MONTH):
a. FROM (YYYYMMDD)
b. TO (YYYYMMDD)
12. I verify that during the claim period indicated in block 11, I lost the following amount of income due to the injury/illness/disease incurred or aggravated
on the date noted in block 9: $
13. During the claim period identified in Block 11, I received the following non-military income from other sources (including all wages, salaries, tips,
income protection plans, vacation or sick pay, unemployment compensation, if NONE, so state) . Attach copies of pay stubs or other documentation
reflecting total amount(s) received $
YES
NO
14a. I was employed (civilian job) on date of injury/illness/disease indicate in block 9:
(Include copy of previous year's W-2 or federal income tax forms with claim)
b. I was covered by an Income Protection Plan and elected to use it: (Check one)
c. I am receiving VA Disability Compensation for the same disabling condition: (Check one)
d. I am receiving Supplemental Income from an Income Protection Plan. (Check one)
e. I am receiving professional fees or compensation for personal services rendered: (Check one)
15. NAME OF CIVILIAN COMPANY/EMPLOYER (To include self employment)
16. STREET ADDRESS/CITY/STATE/ZIP
17. "As the individual making this claim, I understand that I am responsible for the accuracy of the information in Section I and Section II, and that any
false statements or omissions in connection with this claim may subject me to prosecution and possible fines and/or imprisonment."
a. SOLDIER'S SIGNATURE
b. DATE (YYYYMMDD)
SECTION II - EMPLOYER'S VERIFICATION
18. EMPLOYER 1
a. I verify that the above-named reserve Soldier is a (check one)
current
former
employee of this company/organization and that he/she was not able to work during the dates shown in block 11.
b. Had this individual been able to work during the dates identified in block 11, he/she would have earned: $
(amount lost)
c. The individual named above is covered by an employee Income Protection Plan.
YES
NO
$
(If YES, and he/she elected to use it, indicate amount received from this plan):
PREVIOUS EDITION IS OBSOLETE.
Page 1 of 3
DA FORM 7574, MAR 2008
APD LC v1.01ES
How to Fill Out DA Form 7574?
An overview of the form and filing guidelines can be found in the Department of the Army Pamphlet 135–381, Incapacitation of Reserve Component Soldiers Processing Procedures, released in May 2008. DA Form 7574 instructions are as follows:
The soldier is strongly encouraged to file an incapacitation pay claim in case of a service-related injury, disease, or illness that prevents from performing military duties or has resulted in a loss in non-military income.
In order to receive incapacitation pay, a correctly filled-in DA 7574 should be completed and submitted for each calendar month claimed.
Section I - Claim Statement - must contain accurate personal data required for the identification purposes: the name of the soldier, their rank, SSN, unit of assignment, etc.
The soldier is obliged to disclose nonmilitary earned income. It includes income from self-employment along with regular wages, nonmilitary employment, tips, professional fees, salaries, or any other compensations for personal services. It is necessary to indicate whether the service member had been receiving VA Disability Compensation or Supplemental Income from an Income Protection Plan at the time of sustaining the injury or illness and provide the exact days of incapacitation.
The soldier must sign the section to certify that all statements are true. Providing false or incomplete information and the nondisclosure of outside income may result in a fine or imprisonment.
Section II - Employer's Verification - should be filled in by the soldier's employer. It verifies the information on the applicants' employment, benefits and the amount of income lost.
Section III - Commander's Verification - is filled in by the soldier's commander and verifies all of the information provided in Section I.
Section IV - Review/Approval - is completed by higher headquarters or an approving authority.
The completed DA 7574 and all paperwork related to the claim should be submitted through the chain of command.
DA 7574 Related Forms
DA Form 7574-1, Military Physician's Statement of Soldier's Incapacitation/Fitness For Duty, is a form used by the physician to confirm soldier's eligibility for performing military duties.
DA Form 7574-2, Soldier's Acknowledgement of Incapacitation Pay Counselling, is filed by the soldier to document that they have received the proper counseling regarding incapacitation pay.