DA Form 7574-1 Military Physician's Statement of Soldier's Incapacitation/Fitness for Duty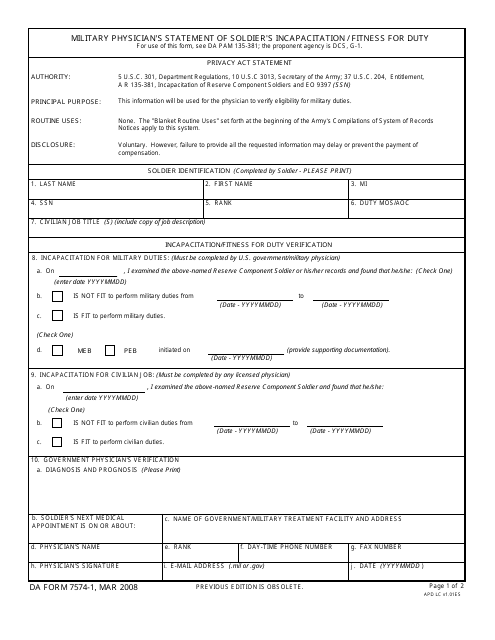 What Is DA Form 7574-1?
DA Form 7574-1, Military Physician's Statement of Soldier's Incapacitation/Fitness For Duty, is a form used for documenting a military physician's conclusions regarding either the ability or inability of a service member to perform their duties.
A new version of the document - sometimes incorrectly referred to as DD Form 7574-1 - was released by the U.S. Department of the Army (DA) on March 1, 2008. An up-to-date DA Form 7574-1 fillable version is available for download below or can be found through the Army Publishing Directorate online library.
The DA 7574-1 must be completed once every three months along with statements from employers regarding non-military employment status. Service members are discouraged from performing any military work until a determination of fitness for duty is made by a military physician.
How to Fill Out DA Form 7574-1?
An overview of the form and filing guidelines can be found in the Department of the Army Pamphlet 135-381, Incapacitation of Reserve Component Soldiers Processing Procedures. DA Form 7574-1 instructions are as follows:
The DA 7574-1 relates to the medical documentation pertaining to the treatment received by the soldier and should be completed when requesting incapacitation payments. The document contains two sections in total.
Section I ("Soldier Identification") is mostly self-explanatory. All boxes are completed by the soldier making the claim and require their personal identifying data. This information includes their name, SSN, rank, MI, duty MOS, or AOC. This part should also identify the service member's civilian occupation with a copy of the job description attached to the completed form.
Section II ('Incapacitation/Fitness for Duty Verification") consists of two parts. A soldier's incapacitation to perform military duties must be verified by the U.S. Government or military physician. Incapacitation for a civilian job can be verified by any licensed physician.
All lines in Box 10 are completed by an attending government physician. Authorized personnel includes licensed government or military physicians, Reserve commissioned officers employed as licensed physicians by the Department of Veteran Affairs, and non-military physicians employed by military services (DVA, TRICARE, MMSO).
The required information includes the diagnosis and prognosis, the date of the next follow-up appointment along with the physician's personal data and their signature.
---
Publications related to DA Form 7574-1:
Download DA Form 7574-1 Military Physician's Statement of Soldier's Incapacitation/Fitness for Duty