DA Form 7576 Fwsva Summary Data Sheet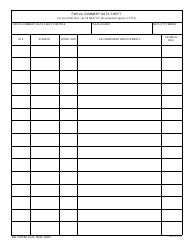 DA Form 7576 or the "Fwsva Summary Data Sheet" is a Department of the Army-issued form used by and within the United States Military.
The form - often incorrectly referred to as the DD form 7576 - was last revised on November 1, 2005. Download an up-to-date fillable DA Form 7576 down below in PDF-format or look it up on the Army Publishing Directorate website.
FWSVA SUMMARY DATA SHEET
For use of this form, see TB MED 577; the proponent agency is OTSG.
TEAM LEADER
DATE (YYYYMMDD)
FWSVA SUMMARY DATA SHEET PURPOSE
RESIDUAL
ID #
ELEMENT
INITIAL RISK
RECOMMENDED IMPROVEMENTS
RISK
DA FORM 7576, NOV 2005
APD LC v1.00