DA Form 7577 Treated Water Sampling Field Data Sheet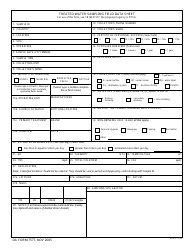 DA Form 7577 - also known as the "Treated Water Sampling Field Data Sheet" - is a Military form issued and used by the United States Department of the Army.
The form - often mistakenly referred to as the DD form 7577 - was last revised on November 1, 2005. Download an up-to-date fillable PDF version of the DA 7577 below or request a copy through the chain of command.
TREATED WATER SAMPLING FIELD DATA SHEET
For use of this form, see TB MED 577; the proponent agency is OTSG.
10. COLLECTOR'S PHONE NUMBER
1. SAMPLE ID
11. COLLECTOR'S EMAIL
2. COUNTRY
12. PERCENT OF PERSONNEL EXPOSED (Select one)
3. LOCATION
0
< 10%
10 < 25%
25 < 50%
50 < 75%
> 75%
4. SITE
13. EXPOSURE DURATION (Select one)
5. OPERATION
< 1 week
< 2 weeks
< 1 year
> 1 year
6. SAMPLE DATE (YYYYMMDD)
14. EXPOSURE NOTES
7. SAMPLE TIME
8. COLLECTING UNIT
9. COLLECTOR'S NAME
15. WATER TYPE (Select One)
16. COLLECTION POINT (Select all that apply)
T - Tap/Faucet
DISINFECTED
ROWPU
MUNICIPAL
BOTTLED
B - water buffalo
WT - water tanker
WB - water blivet
FRESH
DS - distribution system
TF - treatment facility
ROWPU
If water type is ROWPU, Municipal
If water type is bottled complete
or Disinfected Fresh complete
these fields below
17. WATER USE (Select one)
(If b, answer 18. If c, answer 18. and 19.)
applicable fields below
MANUFACTURER
15a. OPERATING UNIT
a.
Primary
b.
Secondary
c. Non-Drinking
Drinking
Drinking
BOTTLING LOCATION
18. IDENTIFY THE PRIMARY DRINKING WATER SOURCE
15b. SOURCE OF WATER
19. NON-DRINKING USES: (Select all that apply)
15c. PRIMARY TREATMENT
BRAND
Personal Hygiene
Showering
Cooking
Recreation
15d. ROWPU ID
LOT #
Other
20. ESTIMATED DRINKING RATE (liters per day) (Select one)
less than or equal to 5 liters per day
greater than 5 liters per day
estimated rate in liters per day
o C
21. pH
22. TURBIDITY
NTU
23. TEMPERATURE
24. TDS
mg/L
25. TOTAL COLIFORM
26. FAC
ppm
27. GEOLOCATION
Note: Classified locations should not be entered. They should be sent to oehs@usachppm.army.smil.mil along with Sample ID.
27a. LATITUDE
27b. LONGITUDE
27c. DATUM
27d. MGRS
28. SAMPLING SITE GRAPHIC
18S
UU
83626
01432 Example
29. NOTES (Field Measurements/Observations/Water Quality
Description/# and names of Bottled Water Brands)
APD LC v1.00
DA FORM 7577, NOV 2005