DA Form 8000 Asap Triage Instrument (For Unscheduled Patients)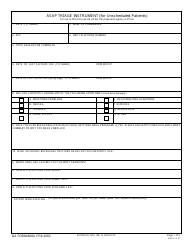 DA Form 8000 - also known as the "Asap Triage Instrument (for Unscheduled Patients)" - is a United States Military form issued by the Department of the Army.
The form - often mistakenly referred to as the DD form 8000 - was last revised on February 1, 2003. Download an up-to-date fillable PDF version of the DA 8000 down below or look it up on the Army Publishing Directorate website.
ASAP TRIAGE INSTRUMENT (for Unscheduled Patients)
For use of this form see AR 40-66; the proponent agency is OTSG
1. DATE
2. NAME OF COMMANDER
(YYYYMMDD)
3. SEX
4. UNIT TELEPHONE NUMBER
5. YOUR REASON FOR COMING IN
6. DATE OF LAST ALCOHOL USE
HOW MUCH?
(YYYYMMDD)
7. DATE OF LAST DRUG USE (
)
HOW MUCH?
specify drugs
(YYYYMMDD)
8. ARE YOU CURRENTLY HAVING ANY OF THE FOLLOWING SYMPTOMS?
(check those that apply.)
a. BREATHING PROBLEMS.
e. DELUSIONS/HALLUCINATIONS.
b. NAUSEA.
f. SEIZURES.
c. TREMORS.
g. DEPRESSION.
d. PAINS, SPECIFY:
h. OTHER:
9. HAVE YOU EVER BEEN ENROLLED IN AN ALCOHOL OR OTHER DRUG PROGRAM? iF YES, PLEASE GIVE DATES ENROLLED AND A BRIEF
SUMMARY OF WHY YOU WERE ENROLLED.
10. WHAT ALCOHOLIC BEVERAGES OR OTHER DRUGS DO YOU PRESENTLY USE?
a. WHICH ONES ARE CAUSING YOU THE MOST PROBLEMS?
b. HOW IS IT AFFECTING YOUR WORK?
c HOW IS IT AFFECTING YOUR FAMILY LIFE?
d. HOW IS IT AFFECTING YOUR PERSONAL LIFE?
PATIENT IDENTIFICATION
(For typed or written entries give: Name - last, first, middle; grade; date; hospital or medical facility)
EDITION OF NOV 1991 IS OBSOLETE
Page 1 of 2
DA FORM 8000, FEB 2003
APD LC v1.01
Download DA Form 8000 Asap Triage Instrument (For Unscheduled Patients)