DA Form 7517 DA Child/Spouse Abuse Incident Report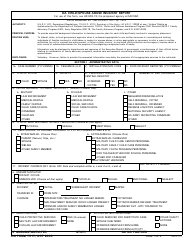 DA Form 7517 or the "Da Child/spouse Abuse Incident Report" is a Department of the Army-issued form used by and within the United States Military.
The form - often incorrectly referred to as the DD form 7517 - was last revised on October 1, 2003. Download an up-to-date DA Form 7517 down below in PDF-format or look it up on the Army Publishing Directorate website.
DA CHILD/SPOUSE ABUSE INCIDENT REPORT
For use of this form, see AR 608-18; the proponent agency is OACSIM.
DATA REQUIRED BY THE PRIVACY ACT OF 1974
AUTHORITY:
5 U.S.C. 301, Department Regulations; 10 U.S.C. 3013, Secretary of the Army; 42 U.S.C. 10606 et seq.; Victims' Rights as
implemented by the Department of Defense Instruction 1030.2, Victim and Witness Assistance Program; DoD Directive 6400.1, Family
Advocacy Program (FAP); Army Regulation 608-18, The Family Advocacy Program; and E.O. 9397 (SSN)
To provide essential background information to develop a service plan for each child and family involved in emergency placement.
PRINCIPAL PURPOSE:
To federal, state, or local government agencies when it is deemed appropriate to use civilian resources in counseling and treating
ROUTINE USES:
individuals of families involved in child abuse or neglect or spouse abuse; or when appropriate or necessary to refer a case to civilian
authorities for civil or criminal law enforcement; or when a state, county, or municipal child protective service agency inquires about a
prior record of substantiated abuse for the purpose of investigating a suspected case of abuse.
Information may be disclosed to departments and agencies of the Executive Branch of government in performance of their official duties
relating to coordination of family advocacy programs, medical care and research concerning child abuse and neglect, and
spouse abuse.
Voluntary. However, failure to provide the requested information may delay the provision of the appropriate services to the individual.
DISCLOSURE:
SECTION I - ADMINISTRATIVE DATA
1a. CASE NUMBER (YYYYNNNN)
1b. SEQUENCE (A-Z)
2. INSTALLATION/MTF CODE
3. DATE INCIDENT REPORTED (YYYYMMDD)
4. TYPE OF VICTIM
5. FATALITY
6. PREVIOUSLY KNOWN TO THE
7. NUMBER OF 2ND OFFENDERS
CENTRAL REGISTRY
CHILD
SPOUSE
YES
NO
OFFENDER:
YES
NO
VICTIM:
YES
NO
8. INITIAL REFERRAL TO FAMILY ADVOCACY (Source) (Choose One)
a. MILITARY
b. CIVILIAN
c. OTHER
LAW ENFORCEMENT
LAW ENFORCEMENT
NEIGHBOR/FRIEND/RELATIVE
MEDICAL/DENTAL
MEDICAL/DENTAL
SELF-REFERRAL, VICTIM
FAMILY CENTER
SOCIAL SERVICES
SELF-REFERRAL, OFFENDER
CHILD CARE/SCHOOL
CHILD CARE/SCHOOL
DEFENSE LOGISTICS AGENCY
COMMAND
CLERGY
NATIONAL SECURITY AGENCY
CHAPLAIN
OTHER
US ARMY RECRUITING COMMAND
OTHER
OTHER
9. TYPE OF MALTREATMENT INITIALLY REPORTED (Choose all that apply)
PHYSICAL
SEXUAL
EMOTIONAL
NEGLECT
10. RELATIONSHIP OF ALLEGED OFFENDER TO VICTIM (Complete EITHER a or b)
a. INTRAFAMILIAL (Choose One)
b. EXTRAFAMILIAL (Choose One)
PARENT (Natural, Step, etc.)
EXTRAFAMILIAL CAREGIVER
SPOUSE
MILITARY CHILD CARE CENTER PERSONNEL
SIBLING
MILITARY FAMILY CHILD CARE PERSONNEL
OTHER FAMILY MEMBER
MILITARY YOUTH PROGRAM PERSONNEL
DOD TEACHER/OTHER DOD SCHOOL PERSONNEL
OTHER DOD CAREGIVER
RELATIONSHIP UNKNOWN
CRC DATE (YYYYMMDD)
11. INCIDENT CHRONOLOGY (Enter CRC Date and complete either a, c and d or b, c and d)
a. UNSUBSTANTIATED
DID NOT OCCUR
UNRESOLVED (Choose all that apply)
PHYSICAL
SEXUAL
EMOTIONAL
NEGLECT
b. SUBSTANTIATED
INCIDENT
INITIAL
SUBSEQUENT INCIDENT
REOPEN
TRANSFER IN
FROM MTF:
CLOSURE
INTERVENTION/TREATMENT NO LONGER NEEDED
VICTIM DIED
MALTREATMENT REDUCED OR NO LONGER PRESENT
VICTIM/OFFENDER REFUSED TREATMENT
TRANSFER OUT - MTF TRANSFER TO:
SPONSOR AND/OR FAMILY MEMBER NO LONGER
ELIGIBLE FOR CARE
c. INVESTIGATIONS
d. VICTIM PROTECTIVE ACTIONS
CHILD PROTECTIVE SERVICES
SWS (Overseas)
CHILD REMOVED FOR SUBSTITUTE CARE
OTHER SAFETY
ACTIONS
MILITARY LAW ENFORCEMENT
NONE
SPOUSE SHELTERED
CIVILIAN LAW ENFORCEMENT
OFFENDER REMOVED FROM HOME
NONE
OFFENDER REMOVED FROM ACTIVITY
IF UNSUBSTANTIATED
STOP!!
GO NO FURTHER
DA FORM 7517, OCT 2003
PAGE 1 OF 2
APD V1.01