DA Form 2408-22 Helmet and Attached Equipment Inspection/Maintenance Record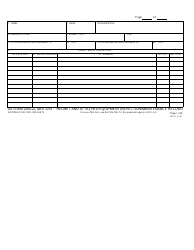 DA Form 2408-22 or the "Helmet And Attached Equipment Inspection/maintenance Record" is a Department of the Army-issued form used by and within the United States Military.
The form - often incorrectly referred to as the DD form 2408-22 - was last revised on March 1, 2014. Download an up-to-date fillable DA Form 2408-22 down below in PDF-format or look it up on the Army Publishing Directorate website.
Page
of
1. NAME
2. RANK
3. ORGANIZATION
4. ANNUAL FITTING
5. HELMET TYPE
6. SIZE
7. ATTACHED/MOUNTED EQUIPMENT #1
7a. TYPE
8. ATTACHED/MOUNTED EQUIPMENT #2
8a. TYPE
9.
HELMET INSPECTION RECORD
9a. DATE DUE
9b. INSPECTION DATE
9c. REMARKS
9d. PID
9e. TI PID
DA FORM 2408-22, MAR 2014
HELMET AND ATTACHED EQUIPMENT INSPECTION/MAINTENANCE RECORD
EDITION OF DEC 99 IS OBSOLETE
For use of this form, see DA PAM 738-751; the proponent agency is DCS G-4
Page 1 of 2
APD LC v1.00
Download DA Form 2408-22 Helmet and Attached Equipment Inspection/Maintenance Record