DA Form 4691-1 Application for Renewal of Clinical Privileges and Staff Appointment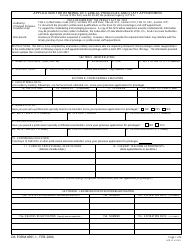 DA Form 4691-1 - also known as the "Application For Renewal Of Clinical Privileges And Staff Appointment" - is a Military form issued and used by the United States Department of the Army.
The form - often mistakenly referred to as the DD form 4691-1 - was last revised on February 1, 2004. Download an up-to-date fillable PDF version of the DA 4691-1 below or request a copy through the chain of command.
APPLICATION FOR RENEWAL OF CLINICAL PRIVILEGES AND STAFF APPOINTMENT
For use of this form, see AR 40-68; the proponent agency is OTSG.
DATA REQUIRED BY THE PRIVACY ACT OF 1974
Title 5, United States Code (USC), Sections 301 and 552a; Title 44, USC, Section 3101; Title 10, USC, Section 1071.
Authority:
To document the provider's professional qualifications as the basis for clinical privileges and staff appointment.
Principal Purpose:
To support the credentialing and privileging processes. A copy of this form will be retained in provider credentials file. Information
Routine Uses:
may be provided to certain civilian institutions, the Federation of State Medical Boards of the U.S., State Licensure Authorities,
and other appropriate professional regulatory bodies.
Disclosure of information requested is voluntary. However, failure to provide the required information may interfere with the
Disclosure:
timely granting of your clinical privileges or professional staff appointment.
INSTRUCTIONS. This form is to be completed by all providers (military and civilian) who are requesting renewal of clinical privileges and/or reappointment
to the medical/dental staff, or following a lapse in staff appointment/clinical privileges within a DoD MTF of greater than 180 days. The information provided
herein updates that contained on the DA Form 4691.
SECTION I - IDENTIFICATION
1. NAME OF PROVIDER (Last, First, MI)
2. RANK/GRADE
3. SSN
4. DATE OF BIRTH (YYYYMMDD)
5. SPECIALTY/AOC
6. MEDICAL/DENTAL FACILITY (Name and Address: City/State/ZIP Code)
SECTION II - PROFESSIONAL EDUCATION
7. EDUCATIONAL DATA.
List residency training, fellowships, any formal schools attended, etc., since your previous application for privileges.
7a. INSTITUTION
7b. ADDRESS
(City/State)
7c. PROGRAM
7d. FROM/TO (YYMM-YYMM)
8. BOARD STATUS.
NO
YES
N/A
Have you passed a professional specialty board or re-boarded since your previous application for privileges?
8c. DATE TAKEN (YYYYMMDD)
8b. SPECIALTY BOARD
8c. EXPIRATION DATE (YYYYMMDD)
9. CERTIFICATION DATA.
NO
YES
Have you passed a professional specialty certification examination since your previous application for privileges?
9b. CERTIFYING ORGANIZATION
9a. DATE TAKEN (YYYYMMD)
9c. EXPIRATION DATE (YYYYMMD)
10. CONTINUING EDUCATION.
.
Total hours of CME/CDE or other professional education attended since your previous application for privileges
11. CURRENT PROFESSIONAL ASSOCIATIONS.
12. CURRENT TEACHING APPOINTMENTS.
(Indicate memberships.)
(Note appointments or positions.)
13. OTHER PROFESSIONAL RECOGNITION. (Please specify recognition received since your last application for privileges.)
SECTION III - LICENSURE/CERTIFICATION/REGISTRATION
14a. STATE LICENSING/AUTHORIZING AGENCY
14b. NUMBER
14c. EXPIRATION DATE
(YYYYMMDD)
15a. DEA/CDS REGISTRATION
15b. NUMBER
15c. EXPIRATION DATE
(Specify state as applicable.)
(YYYYMMDD)
DA FORM 4691-1, FEB 2004
Page 1 of 2
APD LC v1.01ES
Download DA Form 4691-1 Application for Renewal of Clinical Privileges and Staff Appointment