DA Form 5156-r Section Maintenance and Repair Record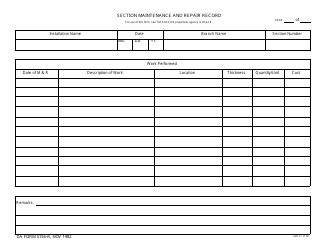 DA Form 5156-r - also known as the "Section Maintenance And Repair Record" - is a Military form issued and used by the United States Department of the Army.
The form - often mistakenly referred to as the DD form 5156-r - was last revised on November 1, 1982. Download an up-to-date fillable PDF version of the DA 5156-r below or request a copy through the chain of command.
SECTION MAINTENANCE AND REPAIR RECORD
of
PAGE
For use of this form, see TM 5-623; the proponent agency is USACE.
Installation Name
Date
Branch Name
Section Number
Mo.
Da.
Yr.
Work Performed
Description of Work
Location
Cost
Date of M & R
Thickness
Quantity/Unit
Remarks:
APD LC v1.00
DA FORM 5156-R, NOV 1982