DA Form 2979 Container and Dunnage Fabrication Work Order and Production Control Register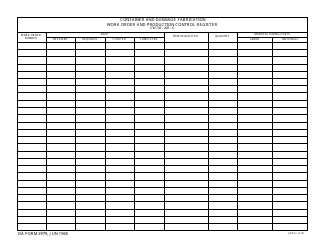 DA Form 2979 or the "Container And Dunnage Fabrication Work Order And Production Control Register" is a Department of the Army-issued form used by and within the United States Military.
The form - often incorrectly referred to as the DD form 2979 - was last revised on June 1, 1965. Download an up-to-date fillable DA Form 2979 down below in PDF-format or look it up on the Army Publishing Directorate website.
CONTAINER AND DUNNAGE FABRICATION
WORK ORDER AND PRODUCTION CONTROL REGISTER
(TM 743 - 200 - 1)
DATE
MANUFACTURING COSTS
WORK ORDER
ITEM REQUESTED
QUANTITY
NUMBER
RECEIVED
REQUIRED
STARTED
COMPLETED
LABOR
MATERIALS
DA FORM 2979, JUN 1965
APD LC v1.00
Download DA Form 2979 Container and Dunnage Fabrication Work Order and Production Control Register