DA Form 2981 Application for Determination of Moral Eligibility for Induction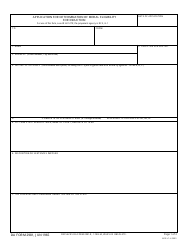 DA Form 2981 - also known as the "Application For Determination Of Moral Eligibility For Induction" - is a Military form issued and used by the United States Department of the Army.
The form - often mistakenly referred to as the DD form 2981 - was last revised on June 1, 1965. Download an up-to-date fillable PDF version of the DA 2981 below or request a copy through the chain of command.
APPLICATION FOR DETERMINATION OF MORAL ELIGIBILITY
DATE OF APPLICATION
FOR INDUCTION
For use of this form, see AR 601-270; the proponent agency is DCS, G-1
TO:
FROM:
1. NAME
3. SELECTIVE SERVICE NO.
2. ADDRESS (Street Number, City and State)
4. NATURE OF OFFENSES (Give detailed description, including DATE of each offense and AGE at time of offenses. List as A, B, C.)
5.
COMPLETE APPLICABLE ITEMS
(a Through d Below)
REFERRING TO OFFENSES AS 4A, 4B, 4C
a. CITY AND STATE IN WHICH TRIED, NAME OF COURT, AND DATE OF TRIAL
b. DISPOSITION OR SENTENCES IMPOSED
c. THE OFFENSES ARE PUNISHABLE UNDER THE LAW OF THE STATE
DA FORM 2981, JUN 1965
REPLACES DA FORM 2281-R, 1 FEB 62, WHICH IS OBSOLETE.
Page 1 of 2
APD LC v1.03ES
Download DA Form 2981 Application for Determination of Moral Eligibility for Induction