DA Form 2107 Nonappropriated Fund - Receipt and Disbursement Voucher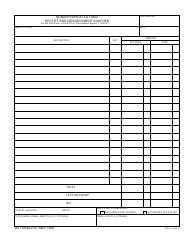 DA Form 2107 - also known as the "Nonappropriated Fund - Receipt And Disbursement Voucher" - is a Military form issued and used by the United States Department of the Army.
The form - often mistakenly referred to as the DD form 2107 - was last revised on May 1, 1958. Download an up-to-date fillable PDF version of the DA 2107 below or request a copy through the chain of command.
VOUCHER NO.
NONAPPROPRIATED FUND
RECEIPT AND DISBURSEMENT VOUCHER
For use of this form, see AR 215-5; the proponent agency is USAFAC.
NAME OF FUND
DATE
AMOUNT
DESCRIPTION
UNIT
RECEIVED
PAID*
TOTAL
LESS DISCOUNT
NET
CHECK APPLICABLE BOX
*PAID BY CHECK NO.
DATED
AUTHORIZED FOR PAYMENT
AUTHORIZED FOR RECEIPT
TYPED NAME, GRADE, AND TITLE OF CUSTODIAN
SIGNATURE OF CUSTODIAN
DA FORM 2107, MAY 1958
APD LC v1.00ES
Download DA Form 2107 Nonappropriated Fund - Receipt and Disbursement Voucher