DA Form 3126 Application and Contract for Establishment of a Junior Reserve Officers' Training Corps Unit (S&i, HQDA, Attn: Tapc-Opp-P, 200 Stovall St., Alexandria, VA 22332-0418)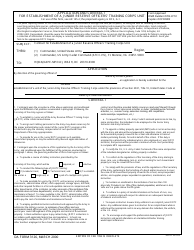 DA Form 3126 or the "Application And Contract For Establishment Of A Junior Reserve Officers' Training Corps Unit (s&i, Hqda, Attn: Tapc-opp-p, 200 Stovall St., Alexandria, Va 22332-0418)" is a Department of the Army-issued form used by and within the United States Military.
The form - often incorrectly referred to as the DD form 3126 - was last revised on March 1, 2000. Download an up-to-date fillable DA Form 3126 down below in PDF-format or look it up on the Army Publishing Directorate website.
APPLICATION AND CONTRACT
Form Approved
FOR ESTABLISHMENT OF A JUNIOR RESERVE OFFICERS' TRAINING CORPS UNIT
OMB Number 0702-0110
Expires 07/31/2005
For use of this form, see AR 145-2; the proponent agency is DCS, G-1.
The public reporting burden for this collection of information is estimated to average one hour per response, including the time for reviewing instructions,
searching existing data sources, gathering and maintaining the data needed, and completing and reviewing the collection of information. Send comments
regarding this burden estimate or any other aspect of this collection of information, including suggestions for reducing the burden, to Department of Defense,
Washington Headquarters Services, Directorate for Information Operations and Reports, 1215 Jefferson Davis Highway, Suite 1204, Arlington, VA
22202-4302. Respondents should be aware that notwithstanding any other provision of law, no person shall be subject to any penalty for failing to comply with
a collection of information if it does not display a currently valid OMB control number. Please DO NOT RETURN your form to the above address. Send your
form to the appropriate ROTC Region.
Contract for Establishment of a Junior Reserve Officers' Training Corps Unit.
SUBJECT:
Region,
(1) Commander, United States Army
THRU:
(2) Commander, US Army Cadet Command (ATCC-HS), Ft. Monroe, VA 23651-5000
TO:
HQDA(DAPE-MPO-D), WASH, DC 20310-0300
APPLICATION
By direction of the governing official of
Name of School System
, an application is hereby submitted for the
Location
establishment of a unit of the Junior Army Reserve Officers' Training Corps under the provisions of Section 2031, Title 10, United States Code at
.
Name of School and Address
CONTRACT
1. Contingent upon the acceptance of the above application and conditioned
contract and therefore provided liability insurance (and proof thereof) through
the school or school sponsored activities or duties (including extra curricular
upon the fulfillment of all promises enumerated in paragraph 2 following, the
activities, i.e., summer camp, adventure training, drill competition,
Secretary of the Army agrees as follows:
marksmanship competitions, etc.)
.
a. To establish a Junior unit of the Army Reserve Officers' Training Corps
(JROTC) at the school named above.
e. To request from CG, U.S. Army Cadet Command permission to hire, by
name and position, the individuals to be employed as the Senior Army
b. To assign such military personnel as the Army may deem necessary for
Instructor and Army Instructor.
the proper administration and conduct of the Junior ROTC program at this
school and to pay the statutory compensation of such personnel from
f. To appoint a military property specialist (MPS) who is not on active duty
with the Army and who will be empowered to requisition, stock, and account
Department of the Army appropriations.
for Government property issued to the school and otherwise to transact
c. To provide for use in the Junior ROTC program such available
matters pertaining thereto, for and in behalf of the school. If this duty is
Government property as may be authorized by law and applicable tables of
assigned to a retired Army individual who is also employed as Junior ROTC
allowances.
instructor, that person will be provided a minimum of one class period daily
to complete MPS requirements.
2. Contingent upon the acceptance of this application by the Secretary of the
g. To notify the CG, U.S. Army Cadet Command of the name and position
Army, and conditioned upon the fulfillment of the promises enumerated in
of the individual designated as military property custodian.
paragraph 1 above, the governing authorities of this school agree as follows:
a. To provide a course of military instruction prescribed by the
h. To conform to the regulations of the Secretary of the Army relating to
issue, care, use, safekeeping, turn-in, and accounting for such Government
property as may be issued to the school.
Secretary of the Army, which will be
required, or
elective.
i. To comply with the provisions of law, and the regulations of the Secretary
b. To conduct the following type of JROTC training:
of the Army, pertaining to the furnishing of a bond and/or insurance to cover
(1) Academic track;
(2) Technical track; and
(3) To establish
the value of all Government property issued to the school, except expended
articles, and supplies proper expended in operations, maintenance, and
the unit as a
single unit, or
a part of a multiple unit system.
instruction.
c. To make available for use by the JROTC unit necessary and adequate
j. To maintain an enrollment in the institution of not less than 100
classrooms, administrative offices, office equipment, storage space, drill field,
physically fit students (or 10% of the student population, whichever is less)
and other required facilities in a fair and equitable manner in comparison with
who are in a grade above the 8th grade.
other departments of the institution (or other elements of the institution if the
institution does not have departments), and to pay the costs of utilities and
k. To adhere to a policy of nondiscrimination on the basis of race, sex,
maintenance thereof. To make available in the JROTC administrative office
color, or national origin with respect to admission or subsequent treatment
a telecommunications line suitable for Internet connectivity and data transfer
of students and instructors.
and to pay the cost of installation and maintenance thereof.
l. To require instructors to wear Army uniforms to accomplish Junior ROTC
d. To employ qualified instructors authorized and approved by the Army to
duties. Any additional duties given to instructors for accomplishment while in
administer the military courses, (a minimum of one officer and one
uniform will be appropriate and in no way demean the individual, the uniform,
noncommissioned officer per unit). Contract periods will be negotiated to
or the U.S. Army.
permit year round management of the program and control of Government
property. School authorities agree to pay retired Army JROTC instructors in
m. To encourage and support the professional development of JROTC
accordance with applicable federal law and regulations. Schools are
instructors and permit attendance at orientation/refresher training
encouraged to reimburse the JROTC instructors on a comparable scale as
workshops/conferences.
other teachers employed at the school. Ensure that instructors are under
EDITION OF FEB 1992 IS OBSOLETE
APD LC v2.01ES
DA FORM 3126, MARCH 2000
Download DA Form 3126 Application and Contract for Establishment of a Junior Reserve Officers' Training Corps Unit (S&i, HQDA, Attn: Tapc-Opp-P, 200 Stovall St., Alexandria, VA 22332-0418)