DA Form 7513 Army Community Service (Acs) Accreditation Score Sheet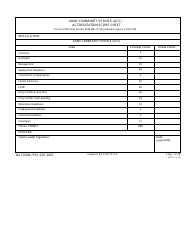 DA Form 7513 - also known as the "Army Community Service (acs) Accreditation Score Sheet" - is a United States Military form issued by the Department of the Army.
The form - often mistakenly referred to as the DD form 7513 - was last revised on September 1, 2007. Download an up-to-date fillable PDF version of the DA 7513 down below or look it up on the Army Publishing Directorate website.
ARMY COMMUNITY SERVICE (ACS)
ACCREDITATION SCORE SHEET
For use of this form, see DA PAM 608-17; the proponent agency is OACSIM.
INSTALLATION:
ARMY COMMUNITY SERVICE (ACS)
Possible Points
Actual Points
Area
5
Structure
10
Oversight
35
Management
20
Deployment Readiness
0
Transitional Compensation
55
Family Advocacy
80
EFMP
30
Army Family Action Plan
20
Army Family Team Building
10
Relocation Readiness
5
Employment Readiness
5
Financial Readiness
15
Volunteers
TOTAL POINTS
290
PERCENT:
Team Leader Signature:
Date
(yyyymmdd):
DA FORM 7513, SEP 2007
Replaces DA Form 7513-R
Page 1 of 28
APD LC v1.00
Download DA Form 7513 Army Community Service (Acs) Accreditation Score Sheet