DA Form 5191 Information on Individual With Disability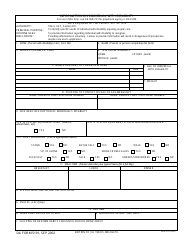 DA Form 5191 or the "Information On Individual With Disability" is a Department of the Army-issued form used by and within the United States Military.
The form - often incorrectly referred to as the DD form 5191 - was last revised on September 1, 2002. Download an up-to-date fillable DA Form 5191 down below in PDF-format or look it up on the Army Publishing Directorate website.
INFORMATION ON INDIVIDUAL WITH DISABILITY
For use of this form, see AR 608-75; the proponent agency is OACSIM.
DATA REQUIRED BY THE PRIVACY ACT OF 1974
Title 5, USC, Section 301.
AUTHORITY:
To identify specific needs of individual with disability requiring respite care.
PRINCIPAL PURPOSE:
To provide information regarding individual with disability to caregiver.
ROUTINE USES:
Providing information is voluntary. Failure to provide information will result in disapproval of prospective
DISCLOSURE:
respite care user's application.
1. NAME (Person with disability) (Last, First, MI)
2. NAME (Parent, or person completing this form)
4. TELEPHONE NUMBERS
3. ADDRESS (Include ZIP Code)
HOME
FATHER (work)
MOTHER (work)
5. NAMES AND AGES OF CHILDREN IN HOME
6. AGE OF INDIVIDUAL
NAME
AGE
WITH DISABILITY
7. WEIGHT
8. PERSONS TO CONTACT IN CASE OF AN EMERGENCY
NAME, ADDRESS AND TELEPHONE NUMBER
NAME, ADDRESS AND TELEPHONE NUMBER
9. GIVE BRIEF DESCRIPTION OF INDIVIDUAL'S DISABILITY
10.a. IS SPECIAL EQUIPMENT USED (Braces,
10.b. IF SPECIAL EQUIPMENT IS USED, WHEN AND HOW USED
wheelchairs, etc)
YES
NO
10.c. DOES INDIVIDUAL (Check appropriate boxes)
STAND
YES
NO
BATHE SELF
YES
NO
WALK
YES
NO
SIT UP ALONE
YES
NO
DRINK FROM A GLASS
YES
NO
FEED SELF
YES
NO
TALK
YES
NO
UNDERSTAND WORDS
YES
NO
11. MEALTIME (Please describe your typical menu for a full day)
BREAKFAST
LUNCH
DINNER
a. SPECIAL MEALTIME OR DIET INSTRUCTIONS
b. SNACKS (List, if any)
12. BEDTIME
a. WHEN DOES HE/SHE GO TO BED
b. WHEN DOES HE/SHE TAKE NAPS
c. SLEEPING OR BEDTIME HABITS CAREGIVER SHOULD KNOW ABOUT
APD LC v1.01ES
EDITION OF JUL 1993 IS OBSOLETE.
DA FORM 5191, SEP 2002