DA Form 2249 Chaplains' Fund Statement of Operations and Net Worth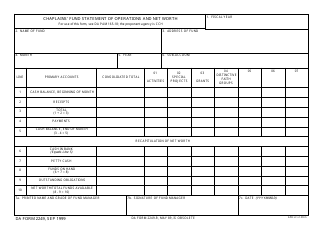 DA Form 2249 - also known as the "Chaplains' Fund Statement Of Operations And Net Worth" - is a United States Military form issued by the Department of the Army.
The form - often mistakenly referred to as the DD form 2249 - was last revised on September 1, 1999. Download an up-to-date fillable PDF version of the DA 2249 down below or look it up on the Army Publishing Directorate website.
1. FISCAL YEAR
CHAPLAINS' FUND STATEMENT OF OPERATIONS AND NET WORTH
For use of this form, see DA PAM 165-18; the proponent agency is CCH
2. NAME OF FUND
3. ADDRESS OF FUND
4. MONTH
5. YEAR
6. SUB-ACCOUNT
05
06
07
04
01
02
03
DISTINCTIVE
LINE
PRIMARY ACCOUNTS
CONSOLIDATED TOTAL
SPECIAL
FAITH
ACTIVITIES
PROJECTS
GRANTS
GROUPS
1
CASH BALANCE, BEGINNING OF MONTH
2
RECEIPTS
TOTAL
3
(1 + 2 = 3)
4
PAYMENTS
CASH BALANCE, END OF MONTH
5
(3 - 4 = 5)
RECAPITULATION OF NET WORTH
CASH IN BANK
6
(Equals Line 5)
7
PETTY CASH
FUNDS ON HAND
8
(6 + 7 = 8)
9
OUTSTANDING OBLIGATIONS
NET WORTH/TOTAL FUNDS AVAILABLE
10
(8 - 9 = 10)
7c. DATE (YYYYMMDD)
7a. PRINTED NAME AND GRADE OF FUND MANAGER
7b. SIGNATURE OF FUND MANAGER
DA FORM 2249-R, MAY 89, IS OBSOLETE
APD LC v1.01ES
DA FORM 2249, SEP 1999
Download DA Form 2249 Chaplains' Fund Statement of Operations and Net Worth