DA Form 7400 Record of Area/Equipment Survey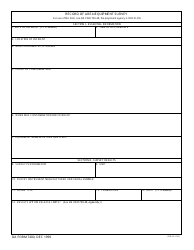 DA Form 7400 or the "Record Of Area/equipment Survey" is a Department of the Army-issued form used by and within the United States Military.
The form - often incorrectly referred to as the DD form 7400 - was last revised on December 1, 1999. Download an up-to-date fillable DA Form 7400 down below in PDF-format or look it up on the Army Publishing Directorate website.
RECORD OF AREA/EQUIPMENT SURVEY
For use of this form, see DA PAM 700-48; the proponent agency is ODCSLOG
SECTION I - ESSENTIAL INFORMATION
1. DATE OF INCIDENT (YYYYMMDD)
2. TIME OF OCCURRENCE
3. LOCATION OF INCIDENT
4. GRID COORDINATES, IF KNOWN
5. CAUSE OF COMTAMINATION
6. WHEN WAS CONTAMINATION DISCOVERED?
7. EQUIPMENT NOMENCLATURE NSN ICRIS?
SECTION II - SURVEY RESULTS
8. SURVEY PERFORMED BY
9. UNIT
10. SURVEY INSTRUMENT MANUFACTURER AND SERIAL NUMBER
11. PROBE TYPE
12. CALIBRATION
13. DATE (YYYYMMDD)
14. RESULTS WITHIN RELEASE LIMITS? (See DA PAM 700-48, Appendix J)
APD LC v1.00
DA FORM 7400, DEC 1999