DA Form 348 Equipment Operator's Qualification Record (Except Aircraft)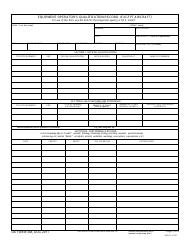 DA Form 348 is a United States Army form also known as the "Equipment Operator's Qualification Record (except Aircraft)". The latest edition of the form was released in August 1, 2011 and is available for digital filing.
Download an up-to-date DA Form 348 in PDF-format @down below@ or look it up on the United States Army Forms website.
EQUIPMENT OPERATOR'S QUALIFICATION RECORD (EXCEPT AIRCRAFT)
For use of this form, see AR 600-55; the proponent agency is DCS, G3/5/7.
NAME (Last, first, initial)
PERMIT (Initial)
NUMBER
DATE ISSUED
TYPE
LIMITATIONS (Physical or operational)
SEX
DATE OF BIRTH
COLOR HAIR
COLOR EYES
HEIGHT
WEIGHT
POSITION TITLE (If civilian)
SECTION I - OFFICIAL QUALIFICATIONS
1
TYPE OF EQUIPMENT
SIZE
SPECIAL QUALIFICATION
DATE QUALIFIED
QUALIFIED AT
NAME OF EXAMINER
SECTION II - BACKGROUND AND EXPERIENCE
ADDITIONAL
TYPE OF DRIVING
NUMBER OF OTHER
SATISFACTORY EXPERIENCE
TYPE OF EQUIPMENT
SIZE
DRIVER'S LICENSES
2
OR OPERATION
DRIVER'S LICENSES
VERIFIED BY
(State or agency)
1
2
Special equipment, special operations or conditions
City, rural, long haul, etc.
SECTION III - PERFORMANCE RECORD
(List chronologically as "credits" - awards, training, retraining, testing, retesting, roadeos, permit renewal,
relicensing, etc; and as "debits" - accidents, arrests, violations, warnings, revocations, suspensions, etc.)
DATE
CREDITS
DEBITS
TYPE OR NATURE
ACTION TAKEN
PREVIOUS EDITIONS ARE OBSOLETE.
(Extract from personnel file to
Page 1 of 2
DA FORM 348, AUG 2011
maintain at operating level.)
APD LC v1.00
Download DA Form 348 Equipment Operator's Qualification Record (Except Aircraft)