DA Form 3265 Explosive Ordnance Incident Report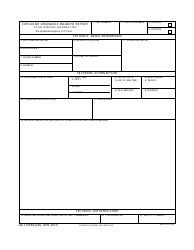 DA Form 3265 or the "Explosive Ordnance Incident Report" is a Department of the Army-issued form used by and within the United States Military.
The form - often incorrectly referred to as the DD form 3265 - was last revised on April 1, 2014. Download an up-to-date fillable DA Form 3265 down below in PDF-format or look it up on the Army Publishing Directorate website.
1. UNIT NUMBER
2. CONTROL NUMBER
3. UNUSUAL
EXPLOSIVE ORDNANCE INCIDENT REPORT
For use of this form, see PAM 27-162;
4. ROUTINE
the proponent agency is OTJAG.
SECTION A: INITIAL INFORMATION
5. DATE/TIME REPORTED
9. INCIDENT LOCATION
11. ITEM(S) REPORTED
6. REPORTED BY
10. POINT OF CONTACT
7. PHONE NUMBER
8. ADDRESS
SECTION B: ACTION BY EOD
13. DATE/TIME
12. PERSONNEL DISPATCHED
14. TRAVEL DATA
15. WORK HOURS
A. DPRT
A. AIR: FLYING TIME
A. TRAVEL
B. ARR
B. VEH: MILEAGE
B. INCIDENT
C. COMPL
16. CONFIRMED IDENTIFICATION
17. DISPOSITION
18. INCIDENT NARRATIVE (INCLUDE ALL SIGNIFICANT DETAILS AND PROBLEMS)
SECTION C: AUTHENTICATION
21. DATE (YYYYMMDD)
19. NAME AND GRADE AND SIGNATURE OF UNIT COMMANDER
20. TELEPHONE NO.
DA FORM 3265, APR 2014
APD LC v2.02ES
PREVIOUS EDITIONS ARE OBSOLETE.