DA Form 7419-1 Family Advocacy Program (Fap)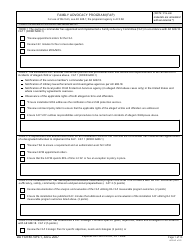 DA Form 7419-1 - also known as the "Family Advocacy Program (fap)" - is a Military form issued and used by the United States Department of the Army.
The form - often mistakenly referred to as the DD form 7419-1 - was last revised on August 1, 2007. Download an up-to-date fillable PDF version of the DA 7419-1 below or request a copy through the chain of command.
(NOTE: Pre-site
FAMILY ADVOCACY PROGRAM (FAP)
materials are annotated
For use of this form, see AR 608-1; the proponent agency is ACSIM.
with an asterisk *)
10000 ORGANIZATION AND MANAGEMENT
10000.1 The garrison commander has appointed and implemented a Family Advocacy Committee (FAC) in accordance with AR 608-18.
CAT 1 (DODD 6400.1)
*Review appointment orders for the FAC.
Review FAC minutes for four consecutive quarters.
Review installation MOA/MOU.
10000.2 The installation FAC ensures that written policies and procedures exist that outline the responsibilities to be carried out in
incidents of alleged child or spouse abuse. CAT 1 (DODD 6400.1)
Notification of the service member's commander per AR 608-18.
Notification of military law enforcement and investigative agencies per AR 608-18.
Notification of the local public Child Protection Services agency (in alleged child abuse cases only) in the United States and
where covered by agreements overseas.
Observance of the applicable rights of both alleged victims and offenders.
*Ensure installation MOA addresses the notification of local child protection services.
*Review command policy letter to ensure that the applicable rights of the alleged victims and offenders are addressed.
Ensure FAP SOP outlines responsibilities and procedures to be carried out in incidents of alleged child/spouse abuse.
10000.3 A requirement and authorization exist for an installation FAPM on the TDA and the commander has made written appointment
of a designated individual to implement the FAP. CAT 1 (DODD 6400.1)
*Review TDA to ensure a requirement and an authorization exist for FAPM.
*Review FAPM appointment orders.
Ensure that the FAPM spends 80% of time in FAP or has an exception to policy in place.
10000.4 The installation FAC has developed and evaluated measurable program outcomes in accordance with DA FAP outcomes (self
-sufficiency, safety, community cohesion and personnel preparedness). CAT 2 (5 points)
Review documentation of the analysis and evaluation of the FAP utilizing DA FAP measurable program outcomes. (2 points)
Ensure the installation has published FAC minutes that addressed an analysis and evaluation of the installation FAP utilizing DA FAP
measurable program outcomes listed above. (3 points)
10000.5 The installation FAC has established a FAP Strategic Plan with specific goals, objectives, needs and strategies in accordance
with AR 608-18. CAT 2 (5 points)
Review the FAP Strategic Plan for specific objectives, needs and strategies (3 points); or
Replaces DA Form 7419-R, OCT 2004.
DA FORM 7419-1, AUG 2007
Page 1 of 15
APD LC v1.01