DA Form 2672-R Classification Questionnaire for Officer Retained Personnel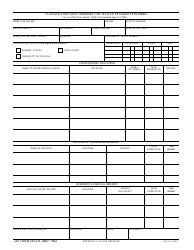 DA Form 2672-R or the "Classification Questionnaire For Officer Retained Personnel" is a Department of the Army-issued form used by and within the United States Military.
The form - often incorrectly referred to as the DD form 2672-R - was last revised on May 1, 1982. Download an up-to-date fillable DA Form 2672-R down below in PDF-format or look it up on the Army Publishing Directorate website.
CLASSIFICATION QUESTIONNAIRE FOR OFFICER RETAINED PERSONNEL
For use of this form, see AR 190-8; the proponent agency is PMG.
NAME (Last, first, MI)
GRADE
SERVICE NUMBER
DATE OF BIRTH
NATIONALITY
POWER SERVED
DATE OF CAPTURE
LENGTH OF MILITARY SERVICE
RELIGION
INTERNMENT SERIAL NUMBER
GENERAL EDUCATION (Check highest school attended)
LANGUAGES
EXCELLENT
GOOD
FAIR
PRIMARY SCHOOL
HIGH SCHOOL
UNIVERSITY OR COLLEGE
PROFESSIONAL EDUCATION
YEARS
YEAR
NAME OF PROFESSIONAL SCHOOL
LOCATION
DEGREE
ATTENDED
GRADUATED
INTERNSHIP
(Do not include Residences)
YEAR
TIME
NAME OF HOSPITAL
LOCATION
SERVICE
COMPLETED
(Months)
RESIDENCES AND FELLOWSHIPS
SERVICE
YEAR
TIME
HOSPITAL OR INSTITUTION
LOCATION
OR SUBJECT
COMPLETED
(Months)
VERIFIED BY STATE BOARD OF
LOCATION
DATE
SPECIALTY
DA FORM 2672-R, MAY 1982
EDITION OF 1 JUL 63 IS OBSOLETE.
APD LC v1.02ES
Download DA Form 2672-R Classification Questionnaire for Officer Retained Personnel