DA Form 5456 Water Point Inspection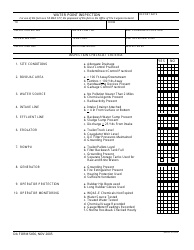 DA Form 5456 - also known as the "Water Point Inspection" - is a Military form issued and used by the United States Department of the Army.
The form - often mistakenly referred to as the DD form 5456 - was last revised on November 1, 2005. Download an up-to-date fillable PDF version of the DA 5456 below or request a copy through the chain of command.
REPORT DATE
WATER POINT INSPECTION
For use of this form see TB MED 577; the proponent of this form is the Office of The Surgeon General.
TO
FROM
INSPECTION RATING
WATER POINT NO
MAP COORDINATE LOCATION
OPERATING UNIT
TEAM CHIEF
UNIT REPRESENTATIVE
INSPECTING UNIT
DATE/TIME GROUP
INSPECTED BY
INSPECTION CHECKLIST CRITERIA
YES
NO
1. SITE CONDITIONS
a. Adequate Drainage
b. Dust Control Practiced
c. Rodent/Insect Control Practiced
2. BIVOUAC AREA
a. > 100 Ft Away/Downstream
b. Latrines > 100 Yds Away
c. Handwashing Devices Present
d. Garbage Control Practiced
3. WATER SOURCE
a. No Pollution Nearer Than 2 Miles
b. Chemical Agents Present
c. Radioactivity Present
4. INTAKE LINE
a. Intake Strainer Attached
b. > 4 In From Surface or Bottom
5. EFFLUENT LINE
a. Backwash Water Sump Present
b. Sludge Sump Present
c. Discharge > 25 Yds From Intake
6. ERDLATOR
a. Trailer/Truck Level
b. Coagulator Weir Level
c. D-E Filter Pressures Maintained
d. Grounding Present
7. ROWPU
a. Trailer/Pallets Level
b. Filter Backwash Tank Full
c. Grounding Present
d. Separate Storage Tanks Used for
Raw and Brine Waters
8. GENERATOR
a. Grounding Present
b. Fire Extinguisher Present
c. Hearing Protection Used
d. Sufficient Ventilation
9. OPERATOR PROTECTION
a. Rubber Hip Boots used
b. Long Rubber Gloves Used
10. OPERATOR MONITORING
a. WQAS-E Chemicals Not Expired
b. Water Source Tested
c. Treated Water Tested
d. Chemical Usage Recorded
e. Gauge/Meter Readings Recorded
f. Chlorine Residuals Checked Hourly
APD LC v1.01ES
DA FORM 5456, NOV 2005