DA Form 7452-9-R Shielding Subsystem Checklist for Existing Facilities (Lra)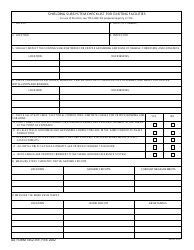 DA Form 7452-9-R or the "Shielding Subsystem Checklist For Existing Facilities (lra)" is a Department of the Army-issued form used by and within the United States Military.
The form - often incorrectly referred to as the DD form 7452-9-R - was last revised on February 1, 2002. Download an up-to-date fillable DA Form 7452-9-R down below in PDF-format or look it up on the Army Publishing Directorate website.
SHIELDING SUBSYSTEM CHECKLIST FOR EXISTING FACILITIES
For use of this form, see TM 5-690; the proponent agency is COE.
1. FACILITY
2. DATE (YYYYMMDD)
3. LOCATION
4. INSPECTOR
5. VISUALLY INSPECT THE EXISTING SHIELD NETWORK FOR PROPER GROUNDING AND SIGNS OF DAMAGE, CORROSION, AND LOOSENESS
LOCATION
DEFICIENCIES
6. CHECK SHIELDING ON ALL DOORS, WINDOWS, VENTILATION PORTS, VISUAL ACCESS OPEININGS, AND WALLS FOR PROPER
INSTALLATION AND BONDING
LOCATION
DEFICIENCIES
7. CHECK ALL UTILITY LINES, ELECTRICAL CONDUCTORS, AND DATA CABLES FOR PROPER BONDING AND
YES
NO
SHIELDING
a. UTILITY LINES, ELECTRICAL CONDUCTORS, AND DATA CABLES ARE PROPERLY BONDED TO THE SHIELD
AT THE POINT OF ENTRANCE
b. ALL ELECTRICAL GROUNDED AND GROUNDING CONDUCTORS ARE IN THE SAME CONDUIT AS PHASE
CONDUCTORS
c. ALL ELECTRICAL FILTERS AND CONDUCTORS ARE PROPERLY ENCLOSED INSIDE METAL (STEEL)
CASES/CONDUITS
d. ALL METAL OBJECTS/CASES/CONDUITS ARE PROPERLY BONDED TO GROUND
e. DATA CABLES ARE PROPERLY BONDED TO THE SIGNAL GROUND FEFERENCE SYSTEM
8. MEASURE STRAY CURRENTS ON THE GROUND CIRCUITS
LOCATION
GROUND CIRCUITS
CURRENT MEASUREMENTS
9. MEASURE THE BOND RESISTANCES
LOCATION
BOND CIRCUIT
RESISTANCES
DA FORM 7452-9-R, FEB 2002
APD LC v1.00
Download DA Form 7452-9-R Shielding Subsystem Checklist for Existing Facilities (Lra)