DD Form 2887 Application for the Department of Defense (DoD) Stored Value Card (SVC) Programs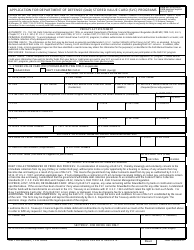 What Is DD Form 2887?
DD Form 2887, Application for the Department of Defense (DoD) Stored Value Card (SVC) Programs is a form necessary to enroll in the DoD Stored Card (SCV) programs. The latest DD Form 2887 fillable version is available for download and e-filing below or can be found on the Executive Services Directorate website.
Enrollment in the DoD SCV programs will allow the individual to request the EagleCash or Navy cash debit card. The DD 2887 is used to provide authorization to initiate debit and credit entries to the individuals' accounts or facilitate the collection of any delinquent amounts.
An up-to-date version on the form - sometimes incorrectly referred to as the DA Form 2887 - was released by the Department of Defense in February 2009 with all previous editions obsolete.
OMB No. 0730-0016
APPLICATION FOR DEPARTMENT OF DEFENSE (DoD) STORED VALUE CARD (SVC) PROGRAMS
OMB approval expires
Oct 31, 2011
PLEASE DO NOT RETURN YOUR COMPLETED FORM TO THE ADDRESS IN THE PARAGRAPH BELOW. SUBMIT COMPLETED FORMS AS SHOWN IN "DIRECTIONS".
The public reporting burden for this collection of information is estimated to average 10 minutes per response, including the time for reviewing instructions, searching existing data sources, gathering and
maintaining the data needed, and completing and reviewing the collection of information. Send comments regarding this burden estimate or any other aspect of this collection of information, including
suggestions for reducing the burden, to the Department of Defense, Washington Headquarters Services, Executive Services Directorate, Information Management Division, 1155 Defense Pentagon,
Washington, DC 20301-1155 (0730-0016). Respondents should be aware that notwithstanding any other provision of law, no person shall be subject to any penalty for failing to comply with a collection of
information if it does not display a currently valid OMB control number.
PRIVACY ACT STATEMENT
AUTHORITY: P.L. 104-134, Debt Collection and Improvement Act 1996, as amended; Department of Defense Financial Management Regulation (DoDFMR) 7000.14-R, Vol. 5,
Chapter 17; 5 U.S.C. 5514; 31 U.S.C. Sections 1322 and 3720A; 37 U.S.C. Section 1007; 31 CFR 210 and 285; and E.O. 9397.
PRINCIPAL PURPOSE(S): To enroll individuals in DoD Stored Value Card (SVC) programs; to obtain authorization to initiate debit and credit entries to individual's accounts; and
to facilitate collection of any delinquent amounts.
ROUTINE USE(S): The information on this form may be disclosed as generally permitted under 5 U.S.C. Section 552(a)(b) of the Privacy Act of 1974, as amended. It may be
disclosed outside of DoD to the U.S. Department of the Treasury, Fiscal and Financial Agents and their contractors involved in providing DoD SVC services. In addition, other
Federal, State, or local government agencies that have identified a need to know may obtain this information for the purpose(s) as identified in the DoD Blanket Routine Uses as
published in the Federal Register.
DISCLOSURE: Disclosure is voluntary; however, failure to furnish the requested information may significantly delay or prevent your participation in the DoD SVC program.
DIRECTIONS:
Submit completed form to Disbursing or Finance Office or other authorized person coordinating enrollment for DoD-approved SVC program. Provide bank or
credit union information if you wish to transfer funds from your bank or credit union account to your SVC account at an SVC kiosk or cashless ATM. For more information about
DoD SVC programs, please visit http://www.fms.treas.gov/eaglecash or http://www.fms.treas.gov/navycash.
1. STORED VALUE CARD (SVC) PROGRAM APPLYING FOR
(X as applicable)
EAGLECASH
NAVY CASH/MARINE CASH
OTHER
(Specify)
SECTION I - APPLICANT PERSONAL INFORMATION
2. RATE, RANK, TITLE
3. FIRST NAME
4. MIDDLE INITIAL
5. LAST NAME
8. MILITARY BRANCH OR COMPANY NAME
9. DATE OF BIRTH
10. MOTHER'S MAIDEN NAME OR KEYWORD
6. SSN
7. PAY GRADE
(Contractors)
(MMDD)
(Required for security purposes)
b. USMC ONLY
11.a. MILITARY DUTY ADDRESS (For Navy/Marine Cash include assigned Division, Unit, etc.) OR WORK ADDRESS (Contractors)
(1) MEU
(2) MLG
c. CITY
d. STATE
e. ZIP CODE
f. COUNTRY
12.a. RESIDENCE/PERMANENT ADDRESS
b. CITY
c. STATE
d. ZIP CODE
e. COUNTRY
13. WORK TELEPHONE NUMBER
14. CELL TELEPHONE NUMBER
15. E-MAIL ADDRESS
SECTION II - APPLICANT BANK OR CREDIT UNION INFORMATION
16.a. BANK OR CREDIT UNION NAME
b. CITY
c. STATE
d. ZIP CODE
17. ABA ROUTING NUMBER (9-digit number)
18. ACCOUNT NUMBER
19. ACCOUNT NAME (Your name as it appears on your account)
20. ACCOUNT TYPE (X one)
CHECKING
SAVINGS
SECTION III - STATEMENTS OF UNDERSTANDING
DEBT COLLECTION/WAIVER OF PRIOR DUE PROCESS: In consideration of receiving a DoD SVC, I hereby knowingly and voluntarily consent to the
immediate collection from my pay (military or civilian DoD pay), without prior notice or prior opportunity for a hearing or review, of any amounts that may
become due and owing as a result of my use of the SVC. This means the government may deduct amounts owed from my pay as authorized by 5 U.S.C.
5514, 37 U.S.C. 1007, and other applicable laws. If I am employed by a contractor or if I am no longer receiving military or civilian pay, and amounts remain
or become due and owing, I understand that the government will initiate debt collection procedures in accordance with the Federal Claims Collection
Standards (31 C.F.R. Parts 900-904) and Chapters 28-32, Volume 5, DoD 7000.14-R, DoD Financial Management Regulation.
EXPIRED, LOST, STOLEN, OR DAMAGED CARD: When my DoD SVC expires, any value remaining will be forwarded to my bank or credit union account
specified above. If the account has been closed or if any value remaining on the SVC cannot be forwarded to the account for any other reason, I understand
that the funds will be transferred to an account in the U.S. Treasury in accordance with 31 U.S.C. 1322 and that I retain the right to claim such funds. For
Navy Cash/Marine Cash only: If my DoD SVC is lost, stolen, or damaged, I may be charged a fee for a replacement card.
ADDITIONAL TERMS AND CONDITIONS: By using the DoD SVC, I agree to accept the terms and conditions for use of the SVC established by the issuer
of the card. This form may be imaged and kept on file electronically by the U.S. Department of the Treasury and/or its Financial or Fiscal Agent. The
electronic image shall be considered the legal equivalent of the original.
SECTION IV- AUTHORIZATION TO MAKE DoD SVC TRANSFERS ELECTRONICALLY TO AND FROM MY BANK OR CREDIT UNION ACCOUNT
I authorize the U.S. Treasury's Financial Agent to initiate debit and credit entries to my bank or credit union account at the financial institution specified above
in order to fulfill any requests I may make to transfer funds between my bank or credit union account and my SVC account.
21. SIGNATURE
22. DATE SIGNED (YYYYMMMDD)
SECTION V - FOR OFFICE USE ONLY
23. ISSUED BY (Disbursing/Finance Office Name/Location)
24. CARD NUMBER (Last 6 digits)
DD FORM 2887, FEB 2009
PREVIOUS EDITION IS OBSOLETE.
Reset
Adobe Professional 8.0
Download DD Form 2887 Application for the Department of Defense (DoD) Stored Value Card (SVC) Programs
How to Fill Out DD Form 2887?
The form is made up of a single page with no filing guidelines provided by the DoD. DD Form 2887 instructions are as follows:
Select the Stored Value Card (SVC) program that you are applying for in Box 1.
Section I - Applicant Personal Information - requires your full name, rate, rank, title, SSN, pay grade, military branch, and date of birth. All applicants must also provide a keyword (or mother's maiden name) for security purposes and specify their military duty address, permanent home address, a cell phone number, and an e-mail.
Section II - Applicant Bank or Credit Union Information - is for providing your bank or credit union name and its full address, an ABA routing number, account number, account name, and account type.
Section III - Statements of Understanding - describes the debt collection process and lost card procedures and provides additional terms and conditions.
Section IV contains the authorization to make DoD SVC transfers electronically to and from your bank or credit union account. It requires a signature and the date of filing.
Section V is for office use only and should be left blank.