DA Form 2142 Pay Inquiry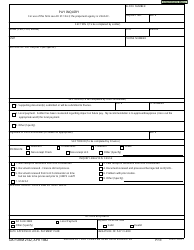 DA Form 2142 or the "Pay Inquiry" is a Department of the Army-issued form used by and within the United States Military.
The form - often incorrectly referred to as the DD form 2142 - was last revised on April 1, 1982. Download an up-to-date fillable DA Form 2142 down below in PDF-format or look it up on the Army Publishing Directorate website.
Attachments Menu
BLOCK NUMBER
PAY INQUIRY
INQUIRY NO.
DATE
For use of this form see AR 37-104-3; the proponent agency is USAFAC.
SECTION I (To be completed by soldier)
NAME (Last, First, Middle)
SSN
GRADE
UNIT
PHONE NUMBER
NATURE OF PAY INQUIRY (Be specific)
SECTION II (To be completed by Unit Commander)
DATE
TL NUMBER
1. Supporting document(s) submitted or will be submitted to finance.
2. Local payment. Soldier has been counseled regarding impact on future pay. My recommendation is to approve/disapprove (cross out the
appropriate word) the local payment.
3. Other (Specify)
Signature of Unit Commander (or soldier as appropriate).
DATE
SECTION III (To be completed by Finance)
Allotment
Entitlements
Collection
Leave
PROBLEM
Non-receipt Check
Non-receipt LES
Other (Specify)
INQUIRY ANALYSIS CAUSE
1. Non-receipt of document from Unit Commander.
2. Late receipt of document from Unit Commander.
3. Document received - Finance did not process.
4. Document received and processed but rejected on DJUOL.
5. Document received from Unit Commander on time
6. Problem with prior station.
but too late to be processed prior to JUMPS cutoff.
8. Other (Specify)
7. USAFAC
DESCRIPTION OF CAUSE AND ACTION TAKEN.
ACTION REQUIRED
INQUIRY EVALUATION
DA Form 3684
Local Payment
Other (Specify)
Valid
Invalid
DATE APPROVED LOCAL PAYMENT PAID
SIGNATURE OF PAY CLERK
DA FORM 2142, APR 1982
EDITION OF 1 APR 73 WILL BE USED UNTIL EXHAUSTED
PFR
APD LC v2.01ES